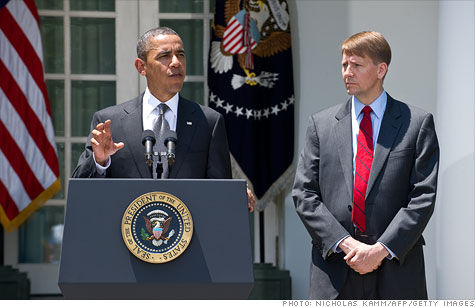 The Senate failed to muster enough votes on Thursday to confirm Richard Cordray, President Obama's pick to run the consumer bureau.
WASHINGTON (CNNMoney) -- The Senate on Thursday failed to muster the 60 votes needed to confirm President Obama's pick to run the Consumer Financial Protection Bureau, which has become the symbol of the administration's efforts to rein in Wall Street excess.
But Obama said after the vote that he was considering sidestepping Congress with a recess appointment.
The Senate voted 53-45, along partisan lines, falling 7 short of the votes needed to take up the confirmation of former Ohio Attorney General Richard Cordray to be the first director of the bureau.
President Obama said he was undeterred, saying "we're not giving up on this" and vowing to continue to campaign for Cordray to get the job. He said he's considering all his options, which includes a so-called recess appointment of Cordray while Congress isn't in session.
With a recess appointment, Cordray could serve through next December.
"We're going to look at all our options," Obama said.
During the confirmation debate, senators from each party accused those in the other of engaging in political gamesmanship in speeches on the Senate floor before the vote.
"The minority party is distorting the Senate confirmation process, mandated by the Constitution, to rewrite a law against the wishes of the American people," said Senate Banking Committee Chairman Tim Johnson, a South Dakota Democrat.
Senate Republicans had vowed since May to block confirmation of any director unless they get structural changes to the bureau, which was formed as part of the Wall Street reform law passed last year.
Senate Minority Leader Mitch McConnell said Thursday that President Obama ignored his party's call for more accountability and transparency in the bureau's structure.
"What we've said is until this or any other president addresses our concerns we cannot and will not support a nominee," McConnell said.
All Senate Republicans, except Sen. Scott Brown of Massachusetts, voted against the procedural measure; Olympia Snowe of Maine voted present.
The White House made a big push this past week, campaigning for Cordray's confirmation.
"There's no reason why Mr. Cordray should not be nominated, should not be confirmed and should not be doing his job right away," Obama said Thursday. "We're not going to allow politics as usual to stand in the way of American consumers being taken advantage of."
The president nominated Cordray in July, bypassing Elizabeth Warren, the Harvard professor who came up with the idea for the bureau and helped set it up.
What's at stake?
At stake are vast new powers the consumer bureau can't wield without a confirmed director. Until there's a confirmed director, the consumer bureau can't regulate financial products from non-banks, including student loan providers, debt collectors, payday lenders and check cashers.
Without a chief, it also can't regulate mortgage originators and servicers, which played a big role in the financial crisis for providing subprime mortgages to families who couldn't afford them in the years leading up to the financial crisis.
Those "toxic" mortgages ended up getting chopped into pieces and bought by the big banks that eventually needed government bailouts to prevent a repeat of a Great Depression, according to Federal Reserve chief Ben Bernanke. Bank of America (BAC, Fortune 500) is still in trouble in large part due to the remains of bad mortgages on its balance sheets.
Without a director, the independent watchdog agency can still regulate mortgages and credit cards that banks issue, a big part of those markets right now. But it can't regulate mortgages and credit cards issued by nonbanks.
Another thing the consumer bureau can't do is declare financial products deceptive or abusive and ban them, according to a Treasury Inspector General report.
The bureau also might not be able to force banks to issue the simpler mortgage disclosure form the bureau has been working on that's due out in 2012.
What Republicans want
Republicans say their filibusters has nothing to do with Cordray. They say it's about getting more oversight of the consumer bureau.
They want three big changes: They want to replace the director with a board, make the bureau ask Congress for money each year, and more power to prevent the bureau from making rules that could threaten the health of financial institutions.
Republicans have complained for months that they've heard no answer from the White House about their proposals. But in a Senate Banking committee hearing in October, Treasury Secretary Tim Geithner basically told them no way.