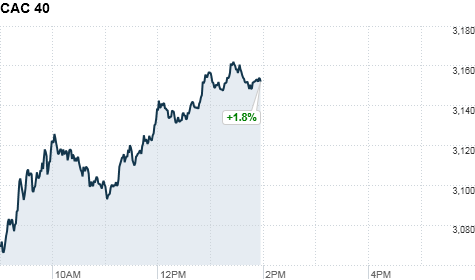 Click on chart to track markets
NEW YORK (CNNMoney) -- European stocks rose Friday as leaders unveiled plans for a fiscal union at their high profile summit in Brussels. But continuing concern from bond investors sent most European bond yields higher.
"Mixed signals this morning," said Jeff Layman, chief investment officer for BKD Wealth Advisors. "I think part of the issue is that the ECB is not making the commitment to step up in a big way and buy the bonds. That's still a wild card out there."
The European Central Bank has been buying government bonds on a limited basis as part of an emergency program to keep yields in check and there has been growing pressure for the central bank to become more aggressive. But ECB President Mario Draghi has repeatedly said that the ECB's only mandate is to manage inflation.
Early Friday, the majority of European leaders reached a new deal to try, once and for all, to resolve the crisis. All 17 members of the eurozone as well as six other nations from the European Union agreed on the intergovernmental integration on national budgets.
The British government, which does not use the euro, dissented from the pact.
London's FTSE (UKX) edged up 0.4%, the CAC 40 (CAC40) in Paris gained 1.1% and the DAX (DAX) in Frankfurt rose 1.4%.
"The optimism today comes from the fact that most of the countries are in agreement and you have to start there in order to make any progress," said Layman.
But yields on Italian 10-year bonds also rose, reversing course from the last couple of days, when they were trading below 6%. On Friday, yields rose to 6.56%.
Italian bonds have been closely watched because of their recent forays above 7%, a benchmark that makes investors nervous because it reminds them of Irish, Portuguese and Greek bonds, which all exceeded 7% before their countries required bailouts.
Italy is the eurozone's third-largest economy and one of the world's largest bond markets.
The Spanish 10-year bond yield rose to 5.85%. Germany's 10-year bond yield -- considered the gold standard for stability - also moved higher, but remained at the safe level of 2.06%.
The yield on the French 10-year bond was the exception. It eased to 3.24%.
German Chancellor Angela Merkel and French President Nicolas Sarkozy have been leading efforts to come up with a fiscal union for Europe that would impose penalties on nations that fail to balance their budgets.
The agreement included 23 of the 27 participants in the Brussels conference.
"Alongside the single currency, a strong economic pillar is indispensable," the European Council said early Friday. "It will rest on an enhanced government to foster fiscal discipline and deeper integration in the internal market as well as stronger growth, enhanced competitiveness and social cohesion."
As part of the pact for fiscal union, bailout funds will now be handled by the ECB.
The European countries also agreed to add €200 billion to the International Monetary Fund, which helped to bail out Greece and Portugal.
"The fragility of sovereign bond markets was highlighted by the reaction to ECB President Draghi's comments following the ECB policy meeting," wrote Gary Jenkins, head of fixed income for Evolution Securities, referring to the ECB's rate cut.
Meanwhile, French banks Societe Generale, BNP Paribas and Credit Agricole shrugged off a downgrade by Moody's Investors Service. Shares of all three banks rose in midday trading in France.
The downgrade comes just two days after Standard & Poor's warned several large eurozone banks that they could be downgraded, including BNP Paribas, along with Germany's Deutsche Bank (DB) and Commerzbank.
In other markets, Asian stocks ended lower, after mixed reports onChina's economy showed that inflation cooled in November while industrial production slowed sharply.
The Hang Seng (HSI) in Hong Kong ended down 2.7%, the Shangai Composite (SHCOMP) fell 0.6% and Tokyo's Nikkei (N225) was down 1.5%.