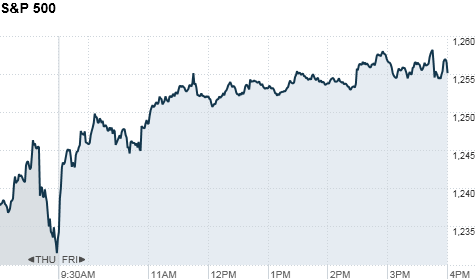 Click chart for more markets data.
NEW YORK (CNNMoney) -- Once again investors will be looking overseas for any signals out of Europe on the fate of the eurozone and the euro.
There are no specific plans for official meetings following this week's summit where the majority of eurozone members reached a deal for a new intergovernmental treaty.
Still as the region waits for six countries to hold parliamentary votes, and following Britain's rejection of the deal, investors remain tense about the likelihood of a deal passing.
"It's going to be another week of: 'Merkel said this. Sarkozy said that'," said Sam Ginzburg, head of capital markets trading at First New York Securities. "That's what is going to be driving trading until there's some sort of resolution in Europe and people start trading on fundamentals."
News of a new deal out of Europe precipitated a rally in stocks Friday. The Dow Jones industrial average (INDU) added 187 points, or 1.6%. The S&P 500 (SPX) jumped 21 points, or 1.7%. The Nasdaq (COMP) rose 50 points, or 1.9%.
Beyond Europe, investors will be closely following announcements after the Federal Reserve's Open Market Committee meeting on Tuesday to see if the central bank might consider intervening to help the market. The Fed isn't expected to follow the European Central Bank's lead and cut rates.
"We're not expecting any new policy changes or surprises out of the Fed next week," said Matt Rubin, director of investment strategy at Neuberger Berman. "If there's any hint of quantitative easing, it would drive the markets higher."
Meanwhile, investors will continue to monitor economic data to see whether the U.S. consumer and manufacturing sectors can continue to show signs of life.
On Tuesday, the Commerce Department will release November's retail sales, excluding autos, which are expected to rise 0.6% after a 0.5% increase in October.
On Thursday, the Labor Department will release its Producer Price Index, which measures wholesale inflation, is expected to come in 0.2% after falling 0.3% in October.
Three major corporations will report earnings next week. Best Buy (BBY, Fortune 500) will report before the open Tuesday. FedEx' (FDX, Fortune 500)s quarterly reports is due out before the bell Thursday, and RIMM (RIMM) will report after the bell.
The wrong stock market lookahead was published earlier on Sunday.