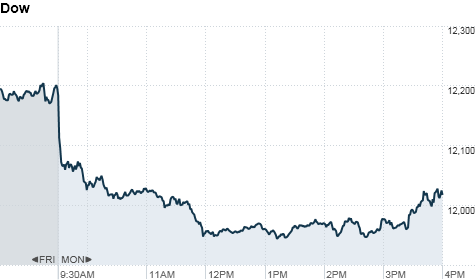 Click the chart for more stock market data.
NEW YORK (CNNMoney) -- U.S. stocks tumbled in a broad sell-off Monday amid growing investor doubt that Europe's debt crisis will actually be resolved, and a sales warning from chipmaker Intel.
The Dow Jones industrial average (INDU) slid 163 points, or 1.3%, while the S&P 500 (SPX) lost 19 points, or 1.5%, and the Nasdaq (COMP) dropped 35 points, or 1.3%. Earlier, all three major indexes had declined about 2%.
Monday's retreat followed Friday's rally, fueled by a deal for a new intergovernmental treaty reached by European leaders to resolve the long-running debt crisis. The plan is expected to be finalized by March, but a lot can happen between now and then.
"I think it was a sigh of relief on Friday that at least the leaders are aligned in that they want to solve this thing, but now the heavy lifting comes in," said Kim Caughey Forrest, senior equity analyst at Fort Pitt Capital Group.
Leaders of the European countries involved in the deal will have to go back and convince their politicians to pass measures that will include "all the ugly stuff that comes along with belt-tightening," said Forrest.
"It's going to be difficult to get this passed," she added. "Countries want to maintain their sovereignty and solve the crisis at the same time, so it's going to be a long slog."
Moody's "renewed call to review European sovereign debt" added pressure on the markets. Early Monday, the credit ratings agency said Friday's plan offered "few new measures" and pledged to review the credit ratings of all European Union members at the beginning of the new year.
"Moody's believes that the system remains prone to further shocks, which would likely lead to selective rating changes," wrote Moody's analysts.
The mood on Wall Street was also sour after Intel warned that it will badly miss its sales forecast for the current quarter because of the worldwide hard drive shortage caused by massive floods in Thailand. Shares of Intel (INTC, Fortune 500) dropped nearly 5%, making the chipmaker's stock one of the biggest losers among Dow issues.
World markets: European stocks closed sharply lower. Britain's FTSE 100 (UKX) slipped 1.5%, the DAX (DAX) in Germany dropped 3.1% and France's CAC 40 (CAC40) fell 2.3%.
Asian markets ended mixed. The Shanghai Composite (SHCOMP) shed 1%, while the Hang Seng (HSI) in Hong Kong ticked up 0.1% and Japan's Nikkei (N225) rose 1.4%.
Companies: Financial stocks were again in focus as the biggest reactors to European debt concerns. Shares of Citigroup (C, Fortune 500), Bank of America (BAC, Fortune 500), Goldman Sachs (GS, Fortune 500) and JPMorgan Chase (JPM, Fortune 500) were all down between 3% and 7% Monday.
Netflix's (NFLX) stock spiked 6% on chatter that the company could be acquired by Verizon (VZ, Fortune 500). Netflix's spokesman said the company doesn't comment on rumors or speculation.
Currencies and commodities: The dollar gained strength against the euro, the British pound and the Japanese yen.
Oil for January delivery slipped $1.64 to settle at $97.77 a barrel.
Gold futures for February delivery fell $48.60 to settle at $1,668.20 an ounce.
Bonds: The price on the benchmark 10-year U.S. Treasury rose, pushing the yield down to 2.01% from 2.05% late Friday.