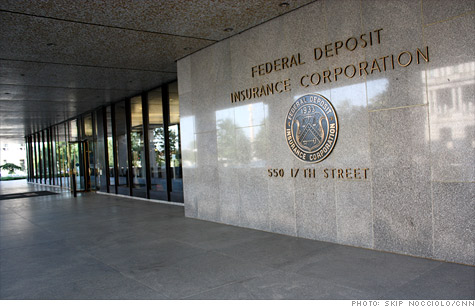 Fearing risky banks,companies are putting their overnight cash in FDIC-insured accounts.
NEW YORK (CNNMoney) -- Jeff Cappelletti had his faith in the financial markets shaken in 2008, when he couldn't extricate about $1 million of his firm's overnight cash from the Reserve Fund, the world's largest money-market mutual fund.
As the treasurer and risk manager of the U.S. division of G4S Secure Solutions, a firm that provides private security guards to corporations, banks and airports in 125 countries, Cappelletti now puts some of his firm's cash in an area of the market he deems impenetrable: bank accounts insured by the FDIC.
"Now, if something happens to Bank of America and my cash is suddenly nowhere to be found, I have another pool of cash somewhere else," said Cappelletti. Bank of America (BAC, Fortune 500) is G4S's primary commercial bank.
Cappelletti has been working with New York private equity firm StoneCastle Partners over the past six months to divide and distribute about $7 million of G4S's overnight cash among a few dozen community banks.
StoneCastle has meted out these deposits in increments of less than $250,000 in order for the accounts to be backed by the FDIC.
In a sign of the intense fear gripping all corners of the financial system, G4S is part of a wave of large multi-national corporations seeking the shelter of FDIC insurance.
A year after launching this service, StoneCastle Partners has amassed $1.5 billion in deposits into its "Federally Insured Cash Account" (FICA) from major corporations like Starbucks (SBUX, Fortune 500), and Wakefern Food, which owns supermarkets including ShopRite and PriceRite, as well as non-profits like the United States Tennis Association.
Wakefern confirmed the practice, while Starbucks declined to comment for this story. USTA was unavailable for immediate comment.
The corporate appetite for such de-risking appears almost insatiable, with StoneCastle's managing principal Josh Siegel saying it's been difficult to keep up with the demand. Conservatively, the firm expects a 10% growth rate in monthly deposits in 2012.
The firm now caps the total amount a single firm can hold in these accounts at $25 million but plans to increase that to $50 million by the end of 2012. It's also working to expand its network of 300 partner banks to 750 during the same time period.
With interest rates at historically low levels, Siegel says community banks can offer better yields on overnight cash. StoneCastle's corporate accounts yield about 0.3% -- nearly triple what corporations would earn in money market funds or U.S. Treasuries that mature in six months or less. StoneCastle takes about 0.15% for its administrative fee.
StoneCastle's accounts are a twist on a longstanding practice called "brokered deposits" that have been typically used by high net worth individuals. Until recently, they were rarely used by major corporations.
Historically, big brokerage shops like Merrill Lynch, Bank of New York (BK, Fortune 500) and Charles Schwab (SCHW, Fortune 500) created these brokered deposit funds for their wealthy clients by selling piles of loans to the community banks that promised customers the best interest rates.
Brokered deposits have been the lifeblood of community banks that need the funds to extend loans to the local community. The dark side is that they've also been a force behind some of the risky lending practices that caused community bank failures during the financial crisis.
Banks that take these deposits are willing to pay high rates. And in order to generate returns from those deposits, participating banks have often made more speculative and, thus higher-yielding, loans in areas like construction that suffered during the housing crisis.
"These deposits offer no risks for the banks and high rates of returns for investors, and the FDIC has been left holding the bag," said William Isaac, a former FDIC commissioner who ran the agency during 1980's savings and loan banking crisis. Isaac, who has been a public critic of brokered deposits, said such accounts were plentiful at nearly every bank that fell during the 1980s.
Most community banks that have failed since 2008 also had outsize proportions of brokered deposits. Still Siegel emphasizes that unlike traditional brokered deposits, StoneCastle doesn't shop for the best rates at community banks, just average rates. But even average rates are more attractive than what large banks offer on overnight accounts, he said.
Delta Trust & Bank Corp. CEO French Hill said StoneCastle's deposits simply help his Little Rock, Ark., bank fill the unusually high business loan demand in his area.
Brokered deposits fall into a regulatory gray area for the FDIC. Banks deemed undercapitalized by the FDIC or on the agency's troubled bank list are banned from accepting new brokered deposits. But the regulations governing the practice overall are murky.
The FDIC declined to comment on StoneCastle Partners.
Siegel said StoneCastle has received two contradictory opinions from the FDIC's legal department. One opinion called StoneCastle's accounts brokered deposits, while the second opinion said they are not.
Since it's up in the air, Siegel said that StoneCastle hews to the rules governing brokered deposits to be safe and generally tries to stay away from banks that his firm perceives as risky.
Still, should any bank fail, Siegel said the FDIC did confirm that all accounts under $250,000 are indeed protected.
G4S's Cappelletti said he has mixed feeling about the "moral hazard "of the FDIC backing, but likes the security it provides his company.
"I think everyone wants the government to provide security," he said. "As a taxpayer, I'm not thrilled about it, but as a user of the services, governmental backing is important. We're all moving towards a flight to security."