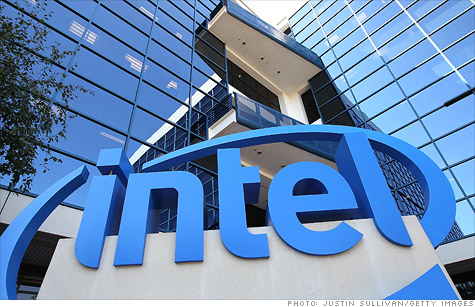 NEW YORK (CNNMoney) -- Intel on Monday announced that it expects to badly miss its sales forecast for the current quarter because of the worldwide hard drive shortage caused by massive floods in Thailand.
The world's largest microchip maker said it continues to forecast that personal computer sales will grow this quarter. But PC makers are reducing their inventories of desktops and laptops, because they're having a difficult time finding hard drives to put in their computers. As the manufacturers reduce their PC stockpiles, they're scaling back their semiconductor purchases from Intel.
As a result, Intel said it now expects fourth-quarter sales to come in between $13.4 billion and $14 billion, significantly lower than its previous estimate of $14.2 billion to $15.2 billion.
Shares of Intel (INTC, Fortune 500) fell more than 4% Monday.
Intel expects to make up for the slumping sales in the middle of next year. The company believes hard drive supply shortages will continue into the first quarter of 2012, after which point PC manufacturers will buy up microprocessors as hard drive supplies recover in the first half of next year.
It's an ominous sign for other companies that make or rely on PCs. Hewlett-Packard (HPQ, Fortune 500) CEO Meg Whitman said on a conference call with analysts late last month that the world's largest PC manufacturer expects to "experience headwinds" associated with the hard drive supply shortage during the first half of next year, and the company is slowly reducing its inventory levels. Dell (DELL, Fortune 500) also announced similar inventory realignment.
Companies like Microsoft (MSFT, Fortune 500) may not be affected quite as much if PC sales continue to grow. On a conference call with analysts, Intel Chief Financial Officer Stacy Smith said repeatedly that the reason for the sales forecast reduction was supply, not an underlying drop in demand for PCs.
But the impacted companies have said that production will likely be disrupted though at least March 2012, according to IHS iSuppli, leading to a potential PC shortage -- particularly with laptops -- in the first quarter.
As a result, IHS reduced its personal computer shipments forecast by 3.8 million PCs for 2012. The combination of a laptop shortage, forecasted growth in tablet sales, and a worsening global economy led the company to lower its PC shipment growth forecast to 6.8%, down from its previous estimate of 9.5% growth.
Thailand serves as an electronics manufacturing hub for hundreds of companies. As the company suffers its worst flooding in decades, Thai production of consumer electronics supplies, particularly hard drives, has come to a standstill.
The hard drives that are made by Western Digital, Toshiba, and other smaller players in the areas affected by the flooding are mainly designed for notebook and netbook personal computers.