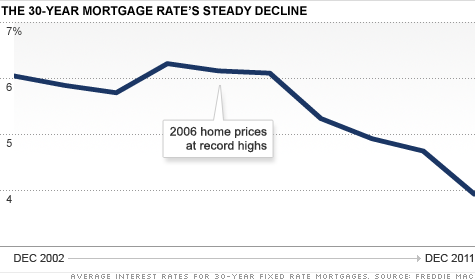 NEW YORK (CNNMoney) -- Mortgage rates sunk to record lows again this week.
The average rate on the 30-year fixed mortgage fell to 3.94%, matching the all-time low hit in early October, according to Freddie Mac's weekly mortgage rate survey. Meanwhile, 15-year fixed-rate loans hit a new record low of 3.21%, surpassing the record set on October 6.
Five-year adjustable rate mortgages also plumbed new depths, hitting 2.86% for the week.
"We've been hanging around record lows for a few months now and we finally hit another one," said Keith Gumbinger of HSH Associates, a provider of mortgage data.
Low-interest mortgages will be available at least through mid-2012, according to Freddie Mac's chief economist, Frank Nothaft.
The low rates can translate into big savings for home buyers. Five years ago, a home buyer would have been lucky to land a 5% rate on a 15-year loan. On a $200,000 mortgage, that would have meant the borrower would have paid $1,582 a month. Should a borrower land a 3.2% rate on a $200,000 loan now, the monthly mortgage payment would come to $1,400 -- a savings of $182 a month.
Mortgage rates tend to closely track Treasury bond yields, which have also been very low lately. For the past three months, 10-year Treasury notes have often fallen below the 2% mark as bond investors steer clear of Europe and its debt woes and buy U.S. Treasuries instead.
"There's been a flight to quality out of Eurobonds and into Treasuries," said Gumbinger. On Thursday, the 10-year Treasury stood at 1.92%.
The rock-bottom interest rates, combined with the lowest housing prices in years, have made home buying extremely affordable right now. Although most borrowers are looking to refinance existing loans rather than buy.
Last week, mortgage applications climbed 4.1%, driven by a surge of home buyers trying to refinance to record-low rates. According to the Mortgage Bankers Association's latest Market Composite Index, close to 80% of loan applications were to refinance existing loans.