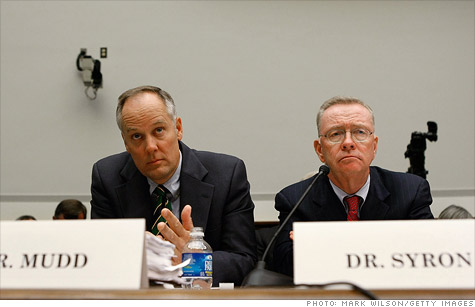 The Securities and Exchange Commission charged Daniel Mudd, former chief executive officer of Fannie Mae, and Richard Syron, former CEO of Freddie Mac, with securities fraud.
NEW YORK (CNNMoney) -- The Securities and Exchange Commission charged six former executives of Fannie Mae and Freddie Mac with securities fraud on Friday for misrepresenting their holdings of high-risk mortgage loans.
The SEC is targeting three former executives of Fannie Mae (FNMA, Fortune 500), including chief executive officer Daniel Mudd, chief risk officer Enrico Dallavecchia and executive vice president of single-family mortgage business Thomas Lund.
The agency is also going after three former executives of Freddie Mac (FMCC, Fortune 500): CEO Richard Syron, executive vice president and chief business officer Patricia Cook and executive vice president for the single family guarantee business Donald Bisenius.
The SEC is seeking financial penalties against them, but did not specify an amount.
The suit claims that the executives knowingly approved of misleading statements, downplayed the size of their holdings of subprime loans and falsely claimed that their risky investments were minimal and manageable.
"Fannie Mae and Freddie Mac executives told the world that their subprime exposure was substantially smaller than it really was," SEC enforcement chief Robert Khuzami said in a statement. "These material misstatements occurred during a time of acute investor interest in financial institutions' exposure to subprime loans, and misled the market about the amount of risk on the company's books."
In a statement, Mudd denied the charges and said the SEC is "wrong" to bring its case. "Every piece of material data about loans held by Fannie Mae was known to the United States government and to the investing public," he said.
For their part, lawyers for Syron said the SEC's case is "fatally flawed" and meritless.
"There was no shortage of meaningful disclosures, all of which permitted the reader to asses the degree of risk in Freddie Mac's guaranteed portfolio," Thomas Green and Mark Hopson said in a statement.
And Michael Levy, an attorney for Thomas Lund, said his client "did not mislead anyone."
Mortgage finance giants Freddie Mac and Fannie Mae, which play a central role in the U.S. housing market by keeping the cost of mortgages lower, received the biggest federal bailout of the financial crisis, topping $124 billion.
In addition, top executives have drawn some $100 million in pay.
The U.S. government took over Fannie and Freddie on Sept. 7, 2008, along with the $5 trillion in home loans they were backing at the time. That's when Mudd and Syron left the companies.
The mortgage giants, which were created by the U.S. government, were badly hurt in 2007 by the sharp decline in home prices as well as rising mortgage delinquencies and foreclosures.
Fannie Mae is currently led by Michael Williams, who become CEO in April of 2009. Williams succeeded Herbert Allison, who replaced Mudd.
Freddie Mac is currently led by Charles Halderman, who replaced the former CEO David Moffet in 2009 who had taken over for Richard Syron.
The turnover at Freddie Mac continues. Halderman said he will resign in 2012.
--CNN's Julia Talanova contributed to this report.
Correction: An earlier version of this story incorrectly identified the former chiefs of Fannie Mae and Freddie Mac.