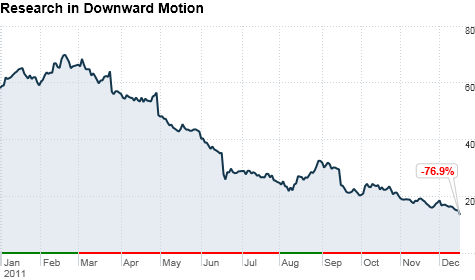 BlackBerry maker Research in Motion, which has fallen on extremely hard times, is one of the worst performing stocks of 2011.
NEW YORK (CNNMoney) -- The best time to buy a stock and make a lot of money off of it is often when the company is universally hated. When so many investors think a company is doomed, it doesn't take much to move the stock higher again.
Research in Motion (RIMM) is probably not one of those stocks.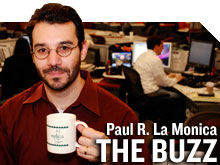 The BlackBerry maker is now absurdly cheap based on any conventional metric. Shares fetch less than 3 times earnings estimates for its next fiscal year. The company is trading at about a third of its expected sales.
And RIM is well below book value, the price it theoretically would be worth if it liquidated and sold off assets.
But none of that matters. For anyone who thinks RIM may be a value stock, I give you these sage words of advice from Admiral Ackbar in "Return of the Jedi": "It's a trap!"
There is no sugarcoating RIM's latest earnings report. The company warned that sales and profits for the next quarter will be far below already reduced forecasts.
It also announced that its new BlackBerry 10 smartphones, trumpeted as the company's savior, have been delayed until the end of 2012. That's an eon in the fast-moving consumer tech world.
That's why the stock plunged 12% Friday morning. Shares are now down 77% year-to-date and are trading at their lowest level since January 2004.
The company can't afford to be Research in Slow Motion at a time when it is facing brutal competition from Apple (AAPL, Fortune 500) and from handset makers like Samsung and HTC that have latched themselves to Google's (GOOG, Fortune 500) Android wagon. Even Nokia (NOK), thanks to an alliance with Microsoft (MSFT, Fortune 500), is a threat.
If you take a look at some of the analyst reports on the company following its most recent disaster, you have to wonder if it maybe should change its name and ticker to GRIM. Or DIM.
"We give management credit for an honest appraisal and outlook," wrote Cowen and Company analyst Matthew Hoffman.
That's about the most charitable thing I could find.
"We now believe that RIMM needs to adopt an existing ecosystem (Windows Phone) in order to remain a relevant player in the smartphone market," wrote Alkesh Shah with Evercore Partners.
In other words, RIM has to become the Canadian version of Nokia.
"We have modest BB 10 sales estimates," warned Canaccord Genuity analyst T. Michael Walkley.
"If management's marketing-based strategy to support sales fails, then the company may have to resort to gross margin cuts to retain relevance. Once this happens, we expect device business margins to fall to zero and possibly into negative territory," was the dire prediction from Nomura analyst Stuart Jeffrey.
If you're looking for gloomiest forecast of all, Kris Thompson at National Bank Financial in Toronto -- essentially RIM's home turf -- takes first prize.
"This could be game over for the BlackBerry franchise," Thompson wrote. "We can't be confident RIM even hits the 2012 holiday season."
For the win!
So what, if anything, can RIM do to save itself? The company had no comment beyond what co-CEOs Jim Balsillie and Mike Lazaridis said during the earnings conference call. They stressed the need for patience and touted RIM's strength outside the U.S.
But that is unlikely to end calls for one, if not both, CEOs to step down -- even after each agreed to cut their salary next year to $1 (American, not loonies). Many investors feel that RIM desperately needs a fresh new look at the top.
"The cosmetic change of taking a dollar a year in salary is a slap in the face to shareholders," said Vic Albioni, chairman and CEO of Jaguar Financial, a Toronto-based bank that owns a stake in RIM and has been pressing the company to make leadership changes.
"They see it as an admirable thing to do. The admirable thing to do is recognize they are the problem, not the money that they receive," he added.
Still, even a new CEO (or two) may not be enough. At this point, with product launches for phones and new PlayBook tablets massively delayed, the company may need to follow the lead of Palm -- the company RIM is drawing unfortunate comparisons to -- and sell out.
Palm, which like RIM was once a leader in mobile devices, sold itself last year to Hewlett-Packard (HPQ, Fortune 500).
Of course, HP wound up shutting down Palm's hardware business only a few months later and is now "contributing" its WebOS software to the open source community. But that's another story.
To be fair, RIM may be able to get a lot more than what is trading at now in a takeover or breakup scenario.
The company has a treasure trove of patents, and tech giants are showing a willingness to pay up for them. The most prominent example of that was Google's stunning decision to buy Motorola Mobility (MMI) for a more than 60% premium earlier this year.
Evercore's Shah estimates that the sum of RIM's parts could be worth $20 a share, with more than a third of that coming from its intellectual property. A $20 price is about 50% higher than its current price.
Then again, the stock began the year at $58.13. Oops.
The fact that RIM is so wounded right now doesn't help the company's chances of a takeover at a big premium. Nomura's Jeffrey wrote that RIM may only be worth $15 in a break-up -- and that a suitor may not need to make a bid unless the stock falls below $10.
That's a big problem. Albioni worries that things will have to get even worse before RIM will decide to do something drastic like look for a white knight. In that regard, Balsillie and Lazaridis may be acting more like European leaders dealing with the debt crisis.
"We don't have tremendous confidence in this board stepping up and putting someone in charge like Sanjay Jha at Motorola who sold the company to Google," he said. "I hope we're wrong."
If recent RIM history is any guide, the best chance for a major change in the executive suite may only come if one of the CEOs gets inebriated and kicked off a plane. But you probably shouldn't hold your breath -- or chew through restraints -- waiting for that.
Best of StockTwits and reader comment of the week: RIMM wasn't the only tech stock making waves Friday. A little gaming company called Zynga went public too.
howardlindzon The 100th person to short $ZNGA tomorrow gets a virtual cow....exciting times in the markets
Hail to the chief of StockTwits! Very funny, Howard.
intelligentspec: $ZNGA to be valued at $7B with $306M revenues last quarter compared to $LNKD $6.4B val with $140M revenues...
Good point. One reason for the "lackluster" first day performance of Zynga (ZNGA) is that the company and bankers did the admirable thing and didn't overprice the offering as much as other recent social IPOs.
ZorTrades: So if $ZNGA is coming out with 100 million shares then what is the lock up going to look like 180 days from now? Probably small, everyone selling now.
Another good point. The big initial float may reduce lockup expiration and secondary offering risk. This isn't Groupon (GRPN), which sold only about 5% of its total shares in the IPO. LinkedIn (LNKD) also sold a smaller percentage of its total shares in its offering than Zynga.
As anyone following me on Twitter knows, I have been OBSESSED with a certain NFL quarterback this week. Readers have had plenty to say about the former Florida Gator play-caller. But my favorite was this one from Alex Ferguson.
"I wonder if they'll start calling the last 2 hours of the trading day 'Tebow Time' $SPY," he tweeted.
If stocks keep experiencing big moves up in the closing moments, trademark that puppy Alex! Although the realist in me has a sinking feeling that the wheels on the Tim Tebow bandwagon will fall off against the Pats Sunday.

-CNNMoney's David Goldman contributed to this story.
The opinions expressed in this commentary are solely those of Paul R. La Monica. Other than Time Warner, the parent of CNNMoney, and Abbott Laboratories, La Monica does not own positions in any individual stocks.