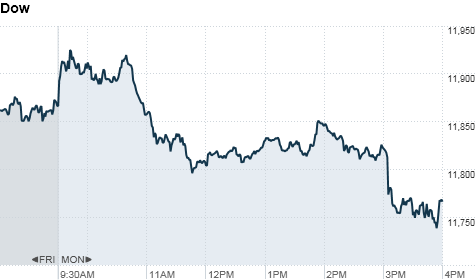 Click for more market data.
NEW YORK (CNNMoney) -- U.S. stocks closed sharply lower Monday as bank shares took a beating amid fresh concerns about the debt crisis in Europe.
The Dow Jones industrial average (INDU) fell 100 points, or 0.8%, to end at 11,766. The S&P 500 (SPX) sank 14 points, or 1.2%, to 1,205. The Nasdaq (COMP) slid 32 points, or 1.2%, to 2,523.
Bank of America (BAC, Fortune 500) fell below $5 per share, its lowest level since the worst of the financial crisis in March 2009. Citigroup (C, Fortune 500), Goldman Sachs (GS, Fortune 500), JPMorgan (JPM, Fortune 500), Morgan Stanley (MS, Fortune 500) and Wells Fargo (WFC, Fortune 500) were also down sharply.
"As soon as Bank of America broke five, it took the whole market down," said David Rovelli, managing director of U.S. equity trading at Canaccord Adams. "It's still one of the biggest banks in the country."
The selling was driven by speculation that BofA and the other big U.S. banks will need to raise more capital, said Rovelli.
U.S. banks have been hit by concerns about their exposure to bonds issued by fragile governments in the eurozone. In addition, traders pointed to reports that tougher regulations on banks could come to pass sooner than expected
The European Central Bank warned that "contagion effects" have intensified as borrowing costs have risen for larger euro area governments, according to its latest Financial Stability Review.
The government debt and banking problems in the eurozone represent "systemic crisis proportions not witnessed since the collapse of Lehman Brothers three years ago," the ECB said.
Speaking to members of the European Parliament, ECB president Mario Draghi welcomed plans to increase fiscal discipline and strengthen market "backstops." But he said "tensions" in financial markets continue to cloud the outlook for the eurozone.
European finance ministers announced plans for euro area governments to contribute €150 billion into the International Monetary Fund.
The goal is to reinforce a financial "firewall" to prevent Italy and Spain from being burned by the crisis that engulfed Greece. But the amount announced Monday falls short of the €200 billion target European Union leaders agreed to earlier this month.
The United Kingdom apparently declined to contribute additional funds to the IMF. The U.K. will "define its contribution" to the anti-crisis effort early next year "in the framework of the G20," according to the statement.
Meanwhile, European finance officials continue to finalize the details of an intergovernmental pact to ensure budgetary discipline.
North Korean leader Kim Jong Il died Saturday after suffering from a heart attack, according to a state media report. The ruling Worker's Party proclaimed his youngest son, Kim Jong Un, "the great successor," indicating he would assume his father's post.
Traders said it was too soon to say how the transition could impact the stock market. "If you can find someone who knows anything about the son, I'd love to talk to them," said Peter Boockvar, chief market strategist with Miller Taback & Co.
Trading volumes were light Monday as many market players have already closed their books for the year. As a result, the major indexes are expected to be prone to dramatic swings this week.
Stocks ended Friday mixed, after a roller-coaster week in which all three indexes each lost more than 2.5%.
Companies:Saudi Prince Alwaleed Bin Talal and his investment company, Kingdom Holding Company, announced a combined investment of $300 million in Twitter, a social media website.
Shares of Winn Dixie (WINN, Fortune 500) rose after the food retailer agreed to merge with Bi-Lo to create an organization of 690 grocery stores throughout the U.S. Bi-Lo will acquire the outstanding Winn Dixie shares.
Research in Motion (RIMM) shares fell slightly, after the BlackBerry maker offered a disappointing outlook for the current quarter and next year in releasing its earnings results.
Shares of Zynga (ZNGA) eased one day after the company made its public debut on the Nasdaq Friday. The maker of popular Facebook game FarmVille priced shares at $10 apiece in its initial public offering late Thursday.
World markets: European stocks closed mostly lower. Britain's FTSE 100 (UKX) eased 0.4%, the DAX (DAX) in Germany slid 0.5% and France's CAC 40 (CAC40) closed little changed.
Asian markets ended lower, amid fears the death of North Korean leader Kim Jong Il could lead to instability on the divided Korean peninsular. The Shanghai Composite (SHCOMP) shed 0.3%, the Hang Seng (HSI) in Hong Kong dropped 1.2% and Japan's Nikkei (N225) fell 1.3%.

Currencies and commodities: The dollar gained strength against the euro, the British pound and the Japanese yen.
Oil for January delivery rose 58 cents to $94.11 a barrel.
Gold futures for February delivery fell $4.90 to $1,593.00 an ounce.
Bonds: The price on the benchmark 10-year U.S. Treasury rose, with the yield easing to 1.82%.