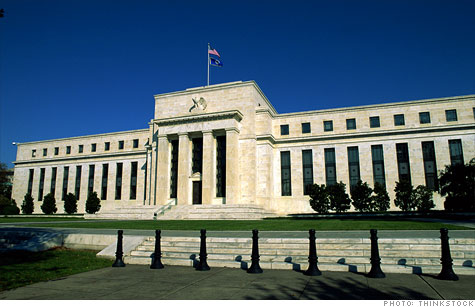 The Federal Reserve is expected to release this week new details on the kinds of financial buffers bank should have.
WASHINGTON (CNNMoney) -- The Federal Reserve is expected this week to release a set of proposed rules detailing how much reserve capital big banks will need to keep on hand in the future.
Wall Street is watching the rulemaking closely. Higher capital cushions would directly impact banks' ability to lend, make financial bets and profit off those loans or bets.
Tougher capital cushions are also a key step toward making banks safer and possibly averting future taxpayer bailouts.
The Fed could release proposed rules this week for some 31 banks with more than $50 billion in assets, sources familiar with the situation told CNNMoney.
The Fed's draft rule would impact mega-banks like JP Morgan Chase (JPM, Fortune 500), Bank of America (BAC, Fortune 500) and Citibank (C, Fortune 500).
Over the past two decades, banks drastically increased the money they use for loans and making financial bets, compared to the deposits they took in. Such leveraging is often cited as one of the causes of the 2008 financial crisis.
With larger capital cushions, banks might have been better able to weather the crisis. In the Dodd-Frank financial reform law, Congress decided that banks should maintain bigger capital cushions but left to regulator to decide their size.
In the meantime, a global regulatory committee released rules for banks from 27 nations that would impose tougher capital standards over time. According to those rules, banks by 2019 will have to hold 10.5% of their assets in reserve, up from 8%. In the years leading up to the financial crisis, some Wall Street firms had capital cushions as low as 3% of assets.
The Fed's rules are expected to keep to a 2019 deadline, according to a research note by Jaret Seiberg, a policy analyst with the Washington Research Group.
New York University economics professor Lawrence J. White said he is worried the Fed's rules won't be tough enough to safeguard the U.S. financial system from future crises. Banks should be required to keep 10% of risk-weighted assets as capital as soon as possible, he said.
"Capital is the buffer that protects banks against losses," said White, who acknowledged the Fed faces a lot of pressure from the banks. "Something north of 10% would be much better and much safer."
The rules, after they are released for public comment, could go into effect as early as next year. The Wall Street Journal reported earlier Monday that the proposal could be made this week.
Banks have been lobbying regulators on the issue because keeping money home as capital doesn't earn them much money. They argue that higher capital requirements hurt the economic recovery by hampering lending.
This summer, JPMorgan Chase CEO Jamie Dimon, in an unusual public exchange with Federal Reserve Chairman Ben Bernanke, suggested that bigger capital cushions would lead to less bank lending and threaten the economic recovery.
In December, former assistant Treasury Secretary Phillip Swagel, who served in the Bush administration during the financial crisis, warned that higher capital levels will impact the economy.
"Banks with very high capital requirements would be less apt to perform the role of providing liquidity," Swagel said.
At the same December hearing, Sheila Bair, former chair of the Federal Deposit of Insurance Corp., disagreed that tough capital standards would hurt the economy.
"It is fallacy to think that thinly capitalized institutions will do a better job at lending," Bair said. "A well-capitalized bank will keep functioning even when the inevitable business cycle turns downward."