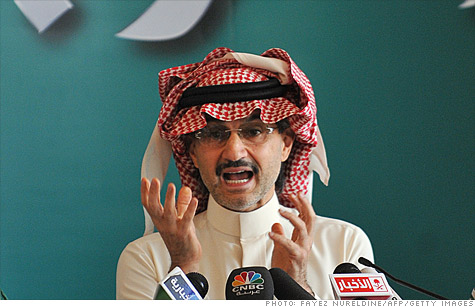 NEW YORK (CNNMoney) -- Saudi Prince Alwaleed bin Talal said Monday that he and his investment firm, Kingdom Holding Company, are purchasing a $300 million stake in Twitter.
The billionaire prince said the investment was made after "several months of negotiations" and would represent "a strategic stake" in the microblogging service.
"We believe that social media will fundamentally change the media industry landscape in the coming years. Twitter will capture and monetize this positive trend," KHC executive director of private equity and international investments Ahmed Halawani said in a press release.
The prince's Twitter shares were bought on the secondary market, according to Fortune reporter Dan Primack -- which means that Twitter didn't directly recieve any of the cash.
While it's unclear how much control Alwaleed's investment will provide, the prince's investment firm looks to become long-term investors in its portfolio investments and "seeks to work closely with the management of those companies and participate in strategic decisions," according to its site.
With a reported net worth of $21.3 billion, Prince Alwaleed has topped Arabian Business's Arab Rich list for eight consecutive years.
Alwaleed's investment firm, KHC, owns a 7% stake in News Corporation (NWS) along with a host of high-profile investments, including a 29.9% stake in Saudi Research and Marketing Group. KHC's other investments include CNNMoney parent company Time Warner (TWX, Fortune 500), Apple (AAPL, Fortune 500) and Citigroup (C, Fortune 500). Alwaleed also has plans to launch a privately owned news channel.
The Saudi prince invested in Citigroup in the early 1990s, when the financial services giant was reeling from a capital crunch. Since then, the billionaire has invested in a host of technology and media companies.
A significant stakeholder in News Corp., Alwaleed defended Rubert Murdoch and the company's future this year amid accusations that the paper had hacked into the voice mail accounts of thousands of people.
"I interact with News Corp and I see a lot of depth at the management level, and at all levels," he told CNN's Piers Morgan in July.
The Saudi prince is the latest power player to bet that fast-growing Twitter will transform itself into a profitable business.
In August, the five-year-old social media company raised a "significant" funding round led by venture firm DST Global. The company amended its certificate of incorporation forms to authorize the issuance of up to 25 million new shares, priced at just over $16 per share. That would let the company raise around $400 million in new funding. Multiple reports pegged the company's valuation at $8 billion after the funding round.
With nearly 800 employees -- and around 100 hired in the last month -- Twitter is undergoing a transformation. After management shakeups and an exodus of early employees, the company is bolstering its engineering team and focusing on expanding its reach.
Twitter, along with Facebook, is being closely watched for signs that it may look to file for an initial public offering.
Several social media firms have gone public this year, including LinkedIn (LNKD) and Groupon (GRPN) -- but both stocks cooled after their first day of trading. And last Friday, shares of social gaming company Zynga (ZNGA) fell on their first day.