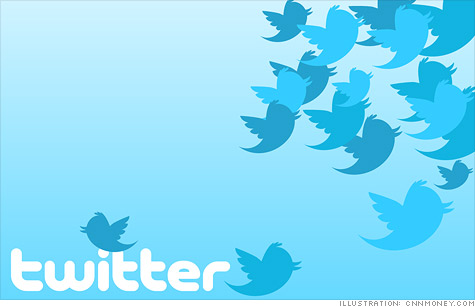 Twitter veterans are being wiped out by the company's new leadership - and insiders say the mass exodus is a good move.
NEW YORK (CNNMoney) -- Twitter's transformation from startup to power player has hit its rocky adolescent stage. In the past six months, more than a dozen high-level employees have departed. The sudden exodus set Silicon Valley chattering: What's going on at Twitter?
Company insiders say the old guard is being wiped out by Twitter's new leadership team. They also say that's probably a good move. Struggling and stagnating, Twitter needed to have a bolt of lightning shot through it, according to those with a close-up view of the company's transition.
Twitter a year ago was a "headless dragon," a former member of its product team says.
Co-founder Evan Williams had just handed the CEO title over to operations head Dick Costolo, and product chief Jason Goldman, one of Twitter's first employees, was on his way out the door. Their absence created a leadership vacuum. Twitter had a group of product managers with no clear hierarchy and no overarching vision.
That changed in March, when Twitter lured exiled co-founder Jack Dorsey back to run its product development. Now nine months into his reign, Dorsey is clearing the field.
"It's pretty much getting Ev's old people out," says one well-connected observer. "Either you're going to choose to get out or it's going to happen anyway."
Departures are inevitable as startups age and evolve. Twitter turned five this year, and its staff has expanded from around 100 people two years ago to almost 800 people today. Its audience also skyrocketed. The site supports more than 100 million active users, who fire off 250 million daily tweets.
But the speed and depth of Twitter's staff purge caught many by surprise -- including some of the company's own employees. The list of those who have left in the past few months includes engineering leader Mike Abbott, consumer marketing head Pam Kramer, chief scientist Abdur Chowdhury, four top product managers, Tweetie creator Loren Brichter, media partnerships executive Robin Sloane, and Twitter's head of PR, Sean Garrett.
"He was a holdover from a former administration," one industry source currently working on projects with Twitter said of Garrett's departure. "You'll probably be seeing more change, because that's the mode they're in."
Garrett did not respond to a request for comment. A Twitter representative declined to comment on the company's wave of departures.
Twitter's corporate culture is being transformed, according to those with an eye on the changes.
Williams, a serial entrepreneur who sold his first company to Google, likes to experiment and invent. He's known for his collaborative approach. One friend describes his view as a belief that "there are more smart people out of this building than inside it." He's better at launching startups than sustaining them, and his parting from Twitter wasn't entirely amicable -- multiple sources told Fortune earlier this year that Twitter's board asked him to step aside.
Dorsey, say those who have worked with him, is cut more in the Steve Jobs mold. He's a relentlessly driven product perfectionist who currently spends eight hours a day at Twitter and then puts in another full day working on his second startup, Square -- which also sports a multi-billion-dollar valuation. He hates inefficiency. When he rejoined Twitter, he arrived on day one with a plan: Survey the landscape to find problems. Then fix them.
Costolo has become an ally in that transformation. Handpicked by Williams as his successor, Costolo weathered a tricky transition and now has strong ties to Dorsey -- even as his connection has cooled with Williams, who remains on Twitter's board but no longer has an operational role at the company.
"[Costolo's] relationship with Jack is very friendly and very warm," says one source who is close to both of Twitter's co-founders. "The relationship with Ev probably tends towards the functional/cordial side."
Williams did not respond to a request for comment, and Twitter declined to make Dorsey or Costolo available for an interview.
Two weeks ago, Dorsey and Costolo launched their first major deliverable since Dorsey's return: A complete look-and-feel redesign that extends from Twitter.com through all of Twitter's freshly overhauled mobile applications. It's the first step toward tying together a collection of desktop, Web and mobile apps that were assembled through a hodgepodge of acquisitions.
"It's a conceptual redesign of the whole product," Costolo told reporters at the launch event.
There was a broader symbolism at work. Twitter held the launch at its under-construction new San Francisco headquarters. Currently an empty concrete shell, the space will be extensively rebuilt over the next six months, and by June 2012, Twitter hopes to move its fast-expanding staff into its new home.
The coming months will also be a critical stretch for Twitter's internal rebuilding. The company is laser-focused on two things right now, insiders say: Refining its product and making money.
"It's not cute anymore if Twitter doesn't work," a source within the company says. "There's a lot more on the line."
After years of experimentation, Twitter's advertising-driven business model is starting to pay off. The company now has 2,400 advertisers running campaigns through the site, up from 1,600 in the spring, Twitter Chief Revenue Officer Adam Bain said recently at a tech conference.
Two new partnerships illustrate the company's monetization road map. Twitter last month formalized its alliances with Crimson Hexagon and Mass Relevance, a pair of startups that connect brands and media companies with Twitter's chatter stream.
Mass Relevance helps media companies filter the signal out of Twitter's firehose of tweets. The company has powered tweet integrations for TV broadcasts including Project Runway, The Voice and the Oscars, and it handled curation, visualization and analytics for the White House's Twitter town hall in July.
Twitter's other new partner, Crimson Hexagon, focuses on social analytics. It lets companies track consumer opinion and drill down into the specifics of conversations unfolding in real-time. The technology "can really uncover the meaning of all the hundreds of million of tweets happening on a daily basis," says Crimson Hexagon CEO Patricia Gottesman. "We're one of the few platforms that's able to help Twitter develop a sense of return in the social media world."
Twitter likes to buy up promising startups building around its platform, and it won't be a surprise if these two turn up on its shopping list. Gottesman ducked that question, emphasizing the "successful partnership" Crimson Hexagon has in place with Twitter.
So what's next for Twitter? For one thing, expect more departures.
"There's still frustration, and I think there's some people who are ready to go and have given up," said one employee who recently left. A current Twitter engineer says there's a sense of burn-out among some company veterans: "It's not the company I signed up for four years ago."
But even some of the displaced think Twitter's current shakeup is a good thing.
"There's an analogy that was floating around -- the new coach comes in for a football team, and that coach may run the team differently," says Kevin Cheng, a top product manager who left Twitter in July and is now launching his own startup. "The company has grown from 120 people to almost 800 in less than two years. That's insane growth. What that means is that there's bound to be some people who are moving on, but many others who are incredibly excited to be there."
Cheng says he's hopeful both as a shareholder and as a user that Twitter will succeed. "I think they're doing some great things these days," he says.
Another of Twitter's recent high-profile departures shares that optimism. Venture capitalist Fred Wilson, one of Twitter's earliest backers and an influential advisor, stepped down from the company's board in September. His firm retains a stake in the company.
Last month, Wilson wrote in his blog about the power that a visionary founder wields "to build the things that are only in his or her mind." In his view, Dorsey is the catalyst that Twitter needed.
"When Jack Dorsey came back to Twitter, he said he was finally going to build Twitter 1.0," Wilson wrote. "Think about that. And think about what Twitter 5.0 is in Jack's mind."