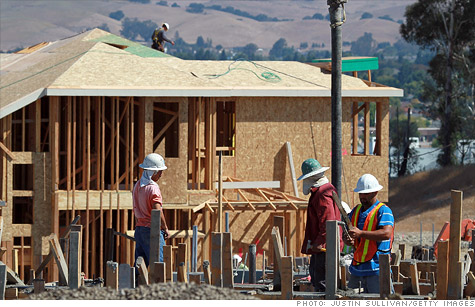 Home building rose to its strongest level since spring of 2010 in November.
NEW YORK (CNNMoney) -- Home building spiked up in November to the strongest level in almost two years, as record-low mortgage rates and a surge in apartment and condo construction lifted activity.
Housing starts shot up to an annual rate of 685,000 in the month, up 9.3% from October and 24.3% higher than a year earlier. Building activity easily topped predictions of 627,000 starts economists surveyed by Briefing.com were expecting.
Building permits, a closely-watched reading that is less affected by weather than actual starts, also shot up, rising 5.7% from October and 20.7% from the year before to 681,000 homes annually.
"By historical standards, homebuilding activity is still very depressed, but at least it appears to be on an established upward trend," said Paul Diggle, property economist at Capital Economics.
Helping to lift building was the fact that the average rate for 30-year and 15-year fixed rate mortgages hit record lows last week, according to Freddie Mac. And the latest National Association of Home Builders' survey released Monday also showed a pick-up in activity, with the best level of customer traffic since early 2008.
Both permits and starts were the strongest readings since the spring of 2010, the original deadline for a homebuyer tax credit that sparked a temporary rebound in building and home sales.
Joseph LaVorgna, chief U.S. economist for Deutsche Bank, said it's important not to get too excited about a single month of strong building, particularly so far ahead of the spring selling season -- a key period for the market. But he said the latest readings are encouraging.
"There has been a noticeable uptrend in several key housing metrics in the back half of this year, so even though we are downplaying the November data to some degree, it does appear that residential construction is finally beginning to rise from its post-recession lows," he said in a note to clients Tuesday.
The gains in single-family home starts and permits were more modest than those for multi-family homes.
Starts of buildings with five or more housing units nearly tripled from a year ago, to an annual level of 230,000.
It was the greatest number of starts of units of that size since September 2008, the month the Lehman Brothers bankruptcy sparked a meltdown in financial markets.