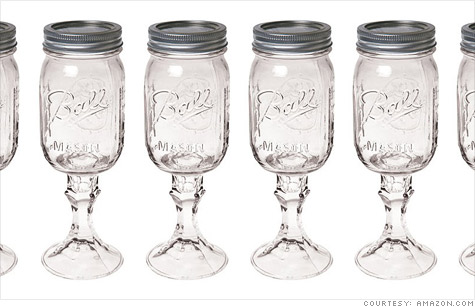 Carson Home Accents' RedNek Wine Glass -- a Ball Mason jar glued to a Libbey candlestick holder -- is making millions.
NEW YORK (CNNMoney) -- America's love affair with the irreverent, tacky and politically incorrect is making millions for at least one business.
Carson Home Accents, a 41-year-old, family-owned company based in Freeport, Pa., struck gold recently when it started manufacturing and selling RedNek Wine Glasses.
The company, a wholesaler of gift and home decor items, started making the wine glass -- simply a Ball Mason jar glued on top of a Libbey candlestick holder -- 10 months ago, and in less than a year, the product has had $5 million in sales.
"The RedNek Wine Glass has quickly become a phenomenon," said John Hill, vice president of Carson Home Accents.
In the beginning... It was only by chance that the idea of the product came to the attention of the company in January.
"One of our salespeople saw this item on a shelf at a Hallmark store," said Hill, adding that Carson Home Accents subsequently met the original inventor of the product and signed a licensing deal with her that allowed the company to manufacture and sell RedNek Wine Glasses.
Okie Morris, 43, who invented the Original RedNek Wine Glass, calls herself a "repurposer." "I use old things and give them a new twist," she said.
Morris, who lives in Newport News, Va., was in a thrift store last year when she spotted an old Mason jar in one room and a Libbey candlestick holder in another. "It just hit me to put these two items together and call it a redneck wine glass," she said.
Carson started manufacturing the glasses in March. Costing about $6.50 to make, and selling for about $15, Carson Home Accents produced 2,000 of its RedNek Wine Glasses in April.
By June, orders had picked up to 70,000 glasses, said Hill.
"We didn't know how big this thing would turn out," said Hill. "When we realized in the summer that we were shipping 100,000 glasses a month, we hired 20 more people to handle the production. That's a 40% jump in our employment."
Jarden Corp., (JAH, Fortune 500) which makes the Mason jars, and Libbey Inc., (LBY) which makes the candlestick holders, did not return phone calls requesting comment about the wine glass.
The RedNek Wine Glass is currently No.1 on the bestsellers list for glassware and drinkware items on Amazon.
"It has been in the top 100 in this category for the past 26 days," said Grace Chung, a holiday trend expert at Amazon.com (AMZN, Fortune 500).
Amazon customer reviews give it a 4.5 out of a 5-star rating.
Chung said the RedNek Wine Glass and other quirky novelty items seem especially popular with gift seekers this year, adding that the wine glass and the "Toilet Mug" -- another hot seller on Amazon -- are "fun, unique ideas that won't cost a fortune."
But as with most fads, they can burn out as quickly as they ignite.
Hill expects orders to slow down after the holidays but is hoping for a pickup again in the New Year. Until then, the company is laying low and enjoying the RedNek Wine Glasses' unexpected money-making run.