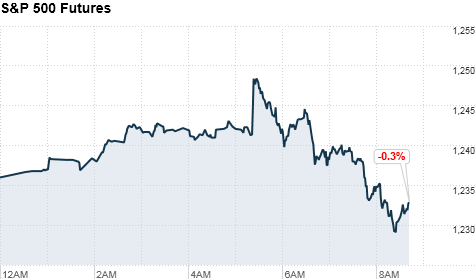 Click on the chart for more premarket data.
NEW YORK (CNNMoney) -- U.S. stocks pointed to a tepid open Wednesday, after an initial pop on the ECB's injection, but investors remain cautious ahead of housing data.
The Dow Jones industrial average (INDU), S&P 500 (SPX) and Nasdaq (COMP) futures were lower ahead of the opening bell. Stock futures indicate the possible direction of the markets when they open at 9:30 a.m. ET.
The European Central Bank reported results for its key lending program Wednesday morning, an announcement traders have been anxiously awaiting.
The ECB allotted €489.19 billion ($643.1 8 billion) in the first batch of its 3-year loan program, which was more than investors expected. The loans will go to 523 banks in the eurozone to support bank lending and liquidity, the central bank announced.
Investors welcomed the news, but remain cautious about the initial debt crisis that created a need for the ECB to lend more money to the banks.
European stocks spiked on the news before returning to early morning trading levels. Britain's FTSE 100 (UKX) ticket up 0.1%, while the DAX (DAX) in Germany edged higher 0.1% and France's CAC 40 (CAC40) rose 0.9%.
The ECB announced a series of "non-standard" measures earlier this month, designed to boost liquidity for European banks struggling to secure funding in the wholesale market.
U.S. stocks surged Tuesday, as concerns about the European debt crisis eased and investors welcomed signs of strength in the U.S. housing market.
"There's a pretty good chance you have a good day today," said Bruce McCain, chief investment strategist at Key Private Bank.
But McCain added that there's still a question of whether the positive news out of Europe, and the glimmer of hope in the U.S. economy, are enough to drive a substantial year-end rally.
"We're still bouncing around the trading range we've had in the last month," he said. "As we get closer to the end of the year -- it's not a function of what we're seeing in Europe and the U.S. economy right now, but what investors expect we'll see in the next year."

Economy: Data on existing home sales for November will be released on Wednesday morning. The National Association of Realtors said last week that it would revise down some of its sales numbers going back to 2007, because of flawed data analysis.
Stocks were buoyed Tuesday by a better-than-expected report on the U.S. housing market. The number of new homes breaking ground rose to an annual rate of 685,000 in November, with requests for building permits rising 1.8% to 681,000 compared to last year.
Companies: Software giant Oracle (ORCL, Fortune 500) reported earnings and sales after the bell Tuesday, sparking fears of a downturn in the tech sector. The company reported quarterly earnings of 54 cents per share, which fell short of analysts' expectations. Shares fell more than 9% in premarket trading.
Drugstore chain Walgreens (WAG, Fortune 500) missed analysts' expectations, reporting quarterly earnings of 63 cents per share Wednesday morning. Analysts surveyed by Thomson Reuters expected Walgreen's to report earnings of 67 cents per share, up from 62 cents a year ago.
Used-car retailer CarMax (KMX, Fortune 500) also posted quarterly results before the bell that fell short of expectations, with an earnings per share of 36 cents.
Currencies and commodities: The dollar gained strength against the euro and the Japanese yen, but fell against and British pound.
Oil for January delivery fell 10 cents to $97.14 a barrel.
Gold futures for February delivery fell $2.00 to $1,615.60 an ounce.
Bonds: The price on the benchmark 10-year U.S. Treasury was little changed, with the yield holding steady at 1.92% from late Tuesday.
World markets: Asian markets ended mixed. The Shanghai Composite (SHCOMP) fell 1.1%, while the Hang Seng (HSI) in Hong Kong rose 1.9% and Japan's Nikkei (N225) gained 1.5%.