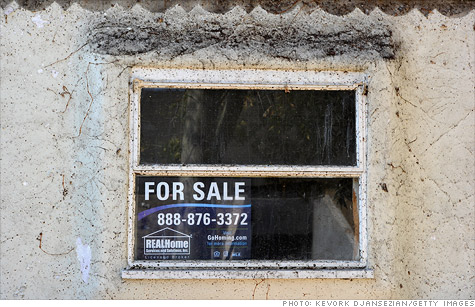 Five years after the subprime mortgage meltdown started to hit, foreclosure sales are still hurting the housing market.
NEW YORK (CNNMoney) -- Nearly five years into the crisis, foreclosures are still weighing heavily on home prices.
A whopping 46% of homes sold in November were either short sales or REOs -- as homes repossessed by lenders are called, according to a survey by Campbell/Inside Mortgage Finance.

One problem: Distressed homes sell for a lot less than homes sold by conventional sellers. The average price for a short sale (when borrowers owe the bank more than their homes are worth) was $209,000 in November. For a regular sale, the average was about $259,000.
The numbers are even worse for REOs, which averaged about $190,000 for properties in move-in condition.
For a damaged REO, the price was just $99,000. That's a common problem, since homeowners who've been foreclosed on don't typically devote resources to upkeep.
There is no shortage of distressed properties: More than 6 million borrowers are delinquent 30 or more days, according to LPS Applied Analytics. Two million are already in the foreclosure process, and most of these homes will be repossessed or sold as short sales.
"The huge glut of distressed properties coming to market is why there will be no home price rebound this coming year and maybe into 2013," said Guy Cecala of Inside Mortgage Finance, a publisher of mortgage information and news.
There's another problem: getting financing for REOs in poor shape can be difficult, according to Cecala. Lenders don't like to issue mortgages for homes in need of extensive repairs.
And in an insidious twist, as distressed properties are sold, they can also bring down the price of homes that aren't in trouble. That's because mortgage appraisers assessing a regular home's value typically compare it to short sales and REOs in the area.
Since distressed properties sell for so much less, using them as comparables drags the appraised values of regular homes way down.
"It's the No. 1 reason why transactions fall through," said Cecala. "If you can't get an appraisal to support the price, the deal will won't close."