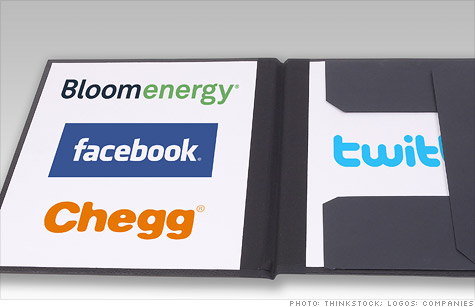 GSV Capital is a publicly traded fund that invests in buzzy pre-IPO startups.
NEW YORK (CNNMoney) -- The tech IPO market heated up in 2011 with Groupon, Zynga, LinkedIn and Pandora. But the two biggest names, Facebook and Twitter, remain private with no easy way for investors to buy shares directly.
GSV Capital (GSVC) aims to fill that void. It's a Silicon Valley-based fund that invests in "high growth" pre-IPO companies. Its current portfolio of 17 startups includes Facebook, Twitter and Gilt Groupe -- as well as recently public Groupon and Zynga.
GSV itself went public in April, giving investors an indirect way to get exposure to those big and buzzy startup names. But investors need to be careful. Its stock is thinly traded, and the price has fluctuated sharply over the past eight months.
GSV Asset Management was born in 2010, sprung from the mind of industry veteran Michael Moe. He formed GSV Capital in January 2011 as a response to "the massive structural changes that have taken place in capital markets in the past decade."
Moe is full of stats about just how much has changed: "Ten years ago, the average IPO took 3.1 years -- now it's 9.6." "Intel went public [in 1971] with a $50 million market cap. Zynga went this month at a $7 billion valuation."
How GSV invests: To navigate this brave new world of pre-IPO investing, GSV selected six high-growth areas to focus on: social media, mobile apps, cloud, software as a service, green tech and education tech.
"Social media ranks very high for us," says Moe, who founded ThinkEquity and once worked at Merrill Lynch. "But most companies we invest in fall into one of those six [categories]."
From there, companies are judged by a framework Moe created called the "Four Ps": people, product, potential and predictability. Then it's time to make a master list.
GSV creates an "NFL draft-type ranking system" of the top 150 companies in its purview -- no easy feat, Moe says, considering there are more than 2,000 venture-backed companies with at least a $100 million market cap.
But private companies aren't always thrilled at the specter of outsiders grabbing shares. Most retain the "right of first refusal" over deals and can opt to instead to buy the shares back themselves. Some, including Facebook and Zynga, have levied hefty fees on private share deals.
Trading on those secondary markets has declined as the rules tighten. But Moe says it's a net positive for GSV.
"Companies are getting more active in controlling their share base," Moe says. "But we're a known entity, and that's attractive. We have a long relationship with investors, and holdings in a number of well respected companies."
Facebook mania: As of September 30, the value of GSV's investments was $41.4 million. By far the buzziest of those portfolio companies is Facebook. GSV plunked down $6.6 million for 225,000 shares of Facebook in June, valuing the social network at $70 billion.
Even though the shares GSV purchased represented less than one-one-hundredth of 1% of Facebook's outstanding stock, GSV shares popped 40% on the news.
Then, late last month, GSV bought 125,000 more shares of Facebook -- which now represents 14.3% of the fund's value. At the same time, it nearly doubled its investment in Twitter, comprising 16.6% of the fund.
It's difficult to benchmark just how smart those investments are until Twitter and Facebook go public or are bought out.
But two of GSV's past investments have debuted recently: Groupon and Zynga. Both entered the market at a rocky time for stocks overall, and a particularly tough environment for Internet IPOs.
Groupon and Zynga shares fall: GSV paid about $25 a share for daily-deals site Groupon, which makes up 2.8% of the fund. The daily deals site went public last month, pricing its offering at $20 and closing debut day up 31%. But a few weeks later, Groupon (GRPN) shares began to slip -- and they're now trading at about $22 each.
FarmVille maker Zynga (ZNGA) has a similar story. The gaming company priced its IPO at $10 a share and began trading last Friday. Shares rose 10% initially, but they quickly drifted lower and closed down for day at $9.50. (GSV holds a structured investment in Zynga via a $4 million promissory note, so it's not possible to make a per-share comparison.)
"Groupon and Zynga were garnering higher valuations in the private market," Moe acknowledges. "But after August, European concerns enveloped stocks. The market has been tough. It makes sense that they're going down in value."
GSV structures its investments "carefully" to make sure the fund is protected from such ebbs and flows, Moe says, and he's convinced that the strategy "will bear out over time."
Moe stresses that GSV is focused on strong fundamental businesses, and the fund doesn't depend on the success of the one or two buzziest companies.
"Facebook has our attention, and rightly so," Moe says. "But we're excited about some positions we already have, and some we're about to close. It doesn't end with Facebook."