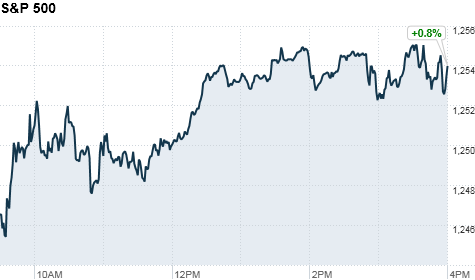 Click chart for more market data.
NEW YORK (CNNMoney) -- U.S. stocks finished a quiet session higher Thursday, after a stronger-than-expected reading on unemployment boosted investor optimism.

The Dow Jones industrial average (INDU) climbed 62 points, or 0.5%, the S&P 500 (SPX) rose 10 points, or 0.8%, and the Nasdaq (COMP) ticked up 21 points, or 0.8%.
Gains were broad-based, with financial stocks leading the way. Shares of Citi (C, Fortune 500) and Morgan Stanley (MS, Fortune 500) jumped about 6%, while Bank of America (BAC, Fortune 500) stock climbed 5% and JPMorgan Chase (JPM, Fortune 500) shares rose 3%.
The government reported that the number of Americans filing for first-time unemployment benefits dropped to its lowest level since April 2008. There were 364,000 initial jobless claims last week, 4,000 fewer than a week earlier. Economists polled by Briefing.com had expected initial claims to have risen to 380,000.
While the strong report came in the face of a weaker-than-expected reading on economic growth, investors have been grasping on to any positive news they get, said Joseph Saluzzi, co-head of equity trading at Themis Trading. But that could all change quickly, depending on developments overseas.
"The economic reports are a mixed bag, but it looks like the bias is to the upside ... some people believe in a Santa Claus rally [leading up to the holidays]," said Saluzzi. "But all it takes is one headline out of Europe and everything can reverse real fast -- and people are on watch for a European sovereign downgrade."
It's been a volatile week for the market, and swings are likely to continue as trading volume remains light going into the holidays.
Stocks finished mixed Wednesday. The Dow and S&P 500 barely finished in positive territory, after falling nearly 1% on fears over the health of European banks and a dour report on the housing market. The Nasdaq closed down 1% after most software stocks dropped dramatically.
Economy: A third estimate of gross domestic product showed that the economy grew at a slightly slower clip in the third quarter than many believed. Gross domestic product grew at an annualized pace of just 1.8%, slower than the 2% measured in the previous reading.
The University of Michigan's consumer sentiment index rose to a level of 69.9 for December, up from a preliminary reading of 67.7. Economists polled by Briefing.com were expecting a reading of 68.
World markets: European stocks closed sharply higher. Britain's FTSE 100 (UKX) rose 1.3%, the DAX (DAX) in Germany gained 1.1% and France's CAC 40 (CAC40) added 1.4%.
On Wednesday, markets in Europe popped after the European Central Bank announced it would inject €489.19 billion ($643.18 billion) into the region's banks to address the eurozone debt crisis.
Investors initially read that €489.19 billion figure -- higher than the expected €300 billion -- as a positive, sending European markets up sharply. And the move seemed to be helping markets again on Thursday, said Saluzzi.
"It was kind of a stealth bailout -- a back-door QE," he said. "It brought yields down on European bonds and people got excited, saying that maybe Europe isn't going to implode after all."
Asian markets ended lower. The Shanghai Composite (SHCOMP) and the Hang Seng (HSI) in Hong Kong shed 0.2%, while Japan's Nikkei (N225) fell 0.8%.
Companies: Bed Bath and Beyond (BBBY, Fortune 500) reported earnings after the bell Wednesday that beat expectations, but revenue disappointed. Shares of the retailer tumbled 6% Thursday.
Shares of Yahoo (YHOO, Fortune 500) ended little changed, after rising more than 1% during the trading session Thursday. The move follows reports that the company will consider a proposal to sell its stakes in Yahoo Japan and Alibaba Group.
Currencies and commodities: The dollar lost ground against the euro and edged up versus the British pound and the Japanese yen.
Oil for February delivery rose 86 cents to $99.53 a barrel.
Gold futures for February delivery dropped $3 to settle at $1,610.60 an ounce.
Bonds: The price on the benchmark 10-year U.S. Treasury edged lower, pushing the yield up slightly to 1.95% from 1.92% late Wednesday.