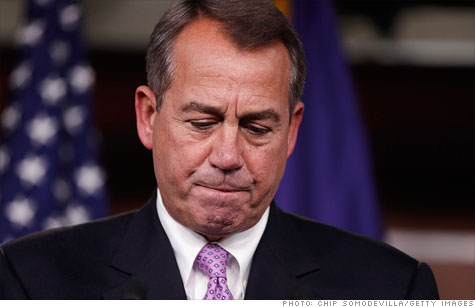 House Speaker John Boehner said he will push for final approval of a two-month payroll tax cut extension before Christmas.
NEW YORK (CNNMoney) -- So it looks like the payroll tax holiday will continue after all.
Under intense public and political pressure, House Speaker John Boehner relented Thursday.
He said that he had struck a deal with Senate Majority Leader Harry Reid on a bill that the Senate passed days earlier with overwhelming bipartisan support.
The deal, if approved by both the House and Senate, would ensure that in January 160 million American workers do not see a reduction in their paychecks, the long-term jobless don't see an interruption in their unemployment checks and Medicare doctors don't suffer a drastic cut in their pay.
Boehner's statement came after days of stringent House GOP opposition to the Senate bill because it called for a two-month extension of the payroll tax cut, instead of one year. The Senate was unable to reach agreement on how to pay for a one-year extension.
But the political strategy the House GOP employed was lambasted by Senate Republicans and the normally GOP-friendly Wall Street Journal editorial page.
On top of that, House Republicans got an earful from their constituents.
"I am willing to fight on but in the end House Republicans felt like they were re-enacting the Alamo, with no reinforcements and our friends shooting at us," said Rep. Kevin Brady in a statement. (Gergen: Why the winds are shifting to Obama)
Many politicians and economists have pushed to keep the tax cut and unemployment benefits in place for fear of dragging down an already slow economic recovery.
Boehner said he secured an agreement that the Senate will immediately appoint members to negotiate a longer term extension early next year so that the measures are in place for all of 2012.
In addition, he said, the deal would tweak language in the Senate bill to lessen the tax reporting burden on small businesses.
No further details were available. But the negotiated bill is largely expected to mirror the Senate-passed version.
Payroll tax cut extended: The Senate bill would extend the payroll tax cut, set to expire on Dec. 31, through Feb. 29.
That means workers would only pay 4.2% on the first $110,100 of their wages into Social Security. That is 2 percentage points below the normal 6.2% rate.
If the payroll tax cut is extended for all of 2012 -- which both parties say they want and will work to do when they return from their Christmas recess -- workers would save anywhere from several hundred dollars if they're low-income to more than $2,000 if they earn six figures.
Estimated cost of a two-month extension: $20.4 billion.
Boehner negotiated a change to a provision in the Senate bill that would apply the two-month tax cut only to the first $18,350 in wages, which represents one-sixth of the annual wages subject to the tax.
That cap would increase the complexity of processing and reporting workers' payroll taxes for those who cut paychecks. The House change would "prevent small businesses from bearing a new administrative burden," a House GOP aide told CNN.
Jobless benefits extended: Emergency federal unemployment benefits, also scheduled to expire on Dec. 31, would be extended through February. Without that extension, an estimated 1.8 million jobless workers in January would have run out of benefits, which average $296 a week.
Those emergency benefits make it possible for the unemployed to get unemployment checks for up to 99 weeks of benefits in total. Whether they can collect that maximum depends on their state's unemployment rate and their work history.
Congress has extended the long-term emergency benefits several times since 2008.
Estimated cost: $8.5 billion.
"Doc fix" extended: The bill would prevent a scheduled 27% cut in payments to Medicare physicians for the first two months of next year.
Under the law, Medicare reimbursements to doctors must be reduced whenever those payments exceed a certain target. Since 2003, that target has been exceeded, but Congress has routinely prevented those pay cuts.
The American Medical Association has noted that even with the regular intervention by Congress, Medicare payments lag 20% behind the cost of caring for seniors.
Many in Congress would like to pass a permanent doc fix, but the biggest stumbling block to doing so is figuring how to pay for the estimated $300 billion cost over the first decade.
Estimated cost: $3.6 billion.
Faster push for pipeline: In a nod to Republican wishes, the Senate bill would require President Obama to expedite his decision on whether to allow construction of the 1,700-mile Keystone oil pipeline.
Paying for the bill: The bill calls for mortgage financing giants Fannie Mae (FNMA, Fortune 500) and Freddie Mac (FMCC, Fortune 500) to charge lenders more to guarantee repayment of new loans. Fannie and Freddie play a central role in the housing market by purchasing mortgages from banks and bundling them into mortgage-backed securities.
Estimated to raise: $36 billion.
What didn't make the cut: Not every expiring tax provision was accounted for in the Senate bill.
Left out was any action on a host of other "temporary" tax breaks that expire this year. These include the research and development credit for businesses and a state and local sales tax deduction for individuals.
Also left out was the usual fix to protect the middle class from getting hit by the Alternative Minimum Tax when they file their taxes for 2012.
Congress could extend the breaks next year and make them retroactive to Jan. 1.
- CNN's Deirdre Walsh and Dana Bash contributed to this report.