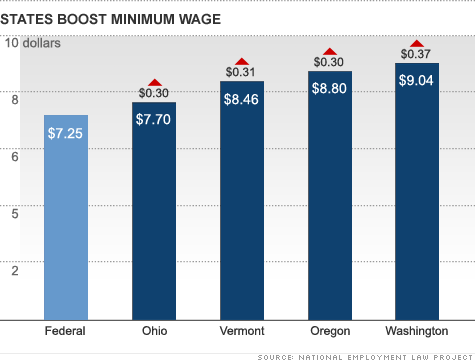 NEW YORK (CNNMoney) -- While some workers are worried about smaller paychecks next year, more than 1.4 million low-income earners will see their wages go up on New Year's Day.
Minimum wage rates in Arizona, Colorado, Florida, Montana, Ohio, Oregon, Vermont and Washington will rise between 28 and 37 cents per hour on Jan. 1, thanks to state laws requiring that minimum wage keeps pace with inflation.
Rates in these states will range from $7.64 per hour (in Colorado), to $9.04 (in Washington) in 2012.
While the federal minimum wage rate is $7.25 -- amounting to annual income of just over $15,000 -- 18 states and Washington, D.C., have rates above the federal level. Ten states raise their rates each year to make sure wages reflect increases in the cost of living. (Nevada will revise its minimum wage in July, while Missouri's rate is still under the federal minimum wage.)
The small boosts for 2012 are estimated to tack an extra $582 to $770 a year onto the paychecks of full-time workers, according to the National Employment Law Project, a non-profit advocacy group.
What's more, the increases could be a mini-boost for the economy. The expected rise in consumer spending as a result of the wage increases would add $366 million to the nation's gross domestic product and lead to the creation of more than 3,000 full-time jobs.
"Increasing minimum wage is a key form of local stimulus," said Paul Sonn, legal co-director at NELP. "It helps front-line workers whose wages have been stagnant and falling by putting more money into the pockets of low income families who then spend the money at local businesses."
Workers considered low-wage, with median wages under $13.52 an hour, have watched their wages decline 2.3% since the recession began, NELP found. About 80% of the low-wage workers impacted by the increases are over the age of 20, and 78% work at least 20 hours per week.
And the minimum wage boosts are being introduced at a crucial time, with the fate of the payroll tax cut in limbo. The House and Senate finally approved a short-term extension of the payroll tax cut on Friday, extending the life of the tax break until February.
The payroll tax cut allows workers to pay only 4.2% on the first $110,100 of their wages into Social Security -- 2 percentage points less than the normal 6.2% rate.
But if an extension isn't approved for all of 2012, lower-income Americans stand to lose hundreds of dollars a year in savings, while workers making over six-figures could see their paychecks shrink by thousands of dollars a year. Overall, an estimated 160 million Americans would see a reduction in their paychecks.
But raising minimum wage could help to offset the hit for millions of low-income workers in these states, said Sonn.
"The eight states that are raising the minimum wage on January 1 are protecting themselves in case Congress can't get its act together again to extend the payroll tax break beyond February," said Sonn.
"The higher wages for workers at the bottom will boost their incomes at least as much if not more than the payroll tax break will."