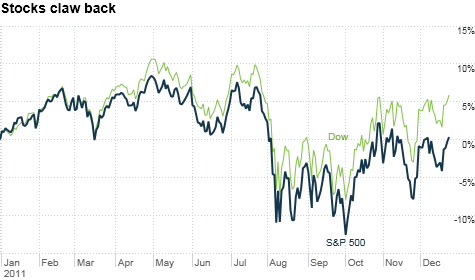 Click for more market data.
NEW YORK (CNNMoney) -- The week ahead on Wall Street is expected to be quiet with many market players taking time off for the holidays.
Stock markets in the United States and Europe will be closed Monday for the Christmas holiday, with trading resuming on a normal schedule Tuesday.
While many investors have already closed their books for the year, the next few trading days could determine whether the major indexes end 2011 with gains or losses.
"Equity markets have one last chance this coming week to end the year in the black," Paul Edelstein and Nigel Gault, economists at IHS Global Insight, wrote in a note to clients.
The broad S&P 500 index edged back into positive territory last week, and the Dow is up 6.2% for the year. But the technology sector has lagged, with the Nasdaq down about 1.3% so far in 2011.
Trading volumes are typically below average at this time of year. But those traders who are in the market in the week ahead will have a few economic reports to set the tone.
Next week brings data on home sales, consumer confidence, weekly unemployment claims and a reading on manufacturing activity in the Chicago area.
Stocks have been supported recently by signs of improvement in the U.S. economy, including declines in initial claims for jobless benefits and an uptick in new home construction.
Investors also welcomed a deal struck last week in Congress to extend a payroll tax cut for two months, ending what had been a heated political stalemate in Washington.
But analysts say the market remains vulnerable to another sell-off if the debt crisis in Europe takes a turn for the worse.
Europe has been the main driver of stock prices since at least September, as Italy and Spain have emerged as possible victims of the crisis that took down Greece, Ireland and Portugal.
The big concern, as has been the case for some time, is that the government debt problems in the eurozone could translate into a banking crisis that would ripple across the global financial system and possibly cause the euro currency union to break apart.
Investors will probably continue to keep a close eye on eurozone bond markets after yields on Italian and Spanish bonds moved higher Friday. Italy is set to auction short-term debt on Wednesday and three- and ten-year bonds on Thursday.
In addition, traders have been awaiting word from credit rating agency Standard & Poor's, which put most euro area governments on watch for a possible downgrade earlier this month.
Eurozone leaders have taken steps toward a new intergovernmental agreement to balance national budgets and prevent member states from spending beyond their means. And the European Central Bank has been pumping billions of euros worth of low-cost loans into European banks to help prevent a credit crunch.
"Markets are in a holding pattern until we see whether the European sovereign situation can continue on its newfound improving course through first quarter," said Robert Tipp, chief investment strategist at Prudential Fixed Income. "That will be the real litmus test."