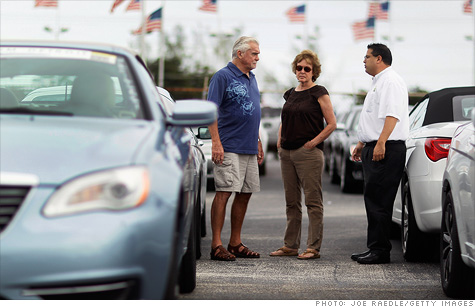 Prospective car buyers shop in Florida in October.
NEW YORK (CNNMoney) -- After a grim couple of years, auto sales finally began to rev up a bit in 2011.
Light vehicle sales for 2011 -- including cars, trucks and SUVs marketed to consumers -- will hit nearly 12.8 million, according to industry research firm TrueCar.com. That's up from 11.6 million last year and is the highest annual total since the 13.2 million vehicles sold in 2008.
TrueCar expects the recovery to continue into next year, when it projects that 13.8 million vehicles will be sold.
Jesse Toprak, Vice President of Industry Trends and Insights for TrueCar, said 2011 sales were characterized by a "slow and steady recovery."
"This year was absent of a blockbuster sales month but we see this pace of growth as healthy and sustainable in the coming year," Toprak said in a statement.
GM (GM, Fortune 500) was the industry leader with 18.9% market share in December, TrueCar said, followed by Ford (F, Fortune 500) with 16.5% and Toyota (TOYOF) with 14.1%.
Fellow research firm J.D. Power and Associates said last week that 2011 light vehicle sales would hit 12.7 million before rising to 13.8 million next year.
Still, the industry has a long way to go to get back to pre-recession sales totals; vehicle sales for 2006 hit 16.5 million, according to TrueCar.