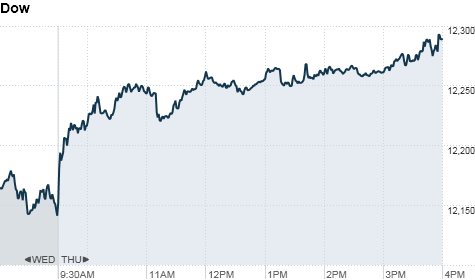 Click for more market data.
NEW YORK (CNNMoney) -- U.S. stocks rose Thursday in a thinly-traded session as investors focused on signs of strength in the economy before calling it a year.
The Dow Jones industrial average (INDU) rose 136 points, or 1.1%, to end at 12,287. The S&P 500 (SPX) added 13 points, or 1.1%, to 1,263. The Nasdaq (COMP) gained 24 points, or 0.9%, to 2,614.
Thursday's rebound put the S&P 500 back on track for a modest 0.4% gain in 2011, after the broad market index fell sharply Wednesday. The Dow is currently up 6.1% for the year, while the Nasdaq is set for a 1.5% loss.
Stocks were supported by reports on housing, manufacturing and employment that raised hopes about the U.S. economy.
"Today's last round of major U.S. reports before the weekend New Year's celebration provided a decidedly positive spin to the outlook," wrote Michael Englund, chief economist at Action Economics, in a note to clients.
Traders said low volume, typical of the holiday week, has led to more pronounced swings, and some of the moves are coming from year-end portfolio rebalancing rather than convictions over the trajectory of the market or particular stocks.
"We expect light trading through today and tomorrow, and any noise can create wild swings," said Doug Cote, chief market strategist at ING Investment Management.
Looking ahead, many investors expect stocks to move higher in the first few months of 2012.
The U.S. economy has shown signs of improvement recently, with economists forecasting a 3.3% increase in gross domestic product in the final three months of 2011. In addition, corporate profits are expected to rise in the fourth quarter, continuing an 11-month streak.
But the outlook for next year remains clouded by the debt crisis in Europe, which continues to weigh on demand for risk assets such as stocks.
On Thursday, an auction of Italian 10-year bonds, which have seen yields continue to flirt with the 7% danger zone, provided muted results. While yields were reported below prior levels, demand was short.
The euro fell to a 17-month low and analysts warn the currency could fall even further in 2012.
"Europe is a powder keg and could explode at any time, and likely will when we are the most complacent," said Keith Springer, president of Springer Financial Advisors in Sacramento.
Economy: Jobless claims rose 15,000 to 381,000 in the latest week, according to the U.S. Labor Department. Analysts surveyed by Briefing.com had expected 368,000 claims.
But the figure remained below 400,000, giving investors hope that the labor market will strengthen in the new year.
The National Association of Realtors index of pending home sales, which measures signed sales contracts but not closed sales, rose 4% to a seasonally adjusted annual rate of 4.42 million in November from 4.25 million in October.
Economist had expected the a 0.6% increase in pending home sales.
The report boosted shares of homebuilders, including Pulte (PHM, Fortune 500), Masco (MAS, Fortune 500), Lennar (LEN) and DR Horton (DHI, Fortune 500).
An index of manufacturing activity in the Chicago area eased slightly in December but held near a 7-month high, according to the Institute for Supply Management.
Companies: Amazon (AMZN, Fortune 500) eased after analysts at Goldman Sachs (GS, Fortune 500) suggested that the online retailer's sales growth for the holiday period may fall short of expectations.
Shares of Yahoo (YHOO, Fortune 500) gained 2.7% after reports that China's Alibaba Group has hired a lobbying firm to prepare a bid for Yahoo.
BP (BP) edged higher despite reports that employees could face criminal charges in relation to last year's Gulf of Mexico oil spill.
World markets: European stocks closed higher. Britain's FTSE 100 (UKX) added 0.8%, the DAX (DAX) in Germany rose 0.9% and France's CAC 40 (CAC40) rose 1.1%.
Asian markets ended mixed. The Shanghai Composite (SHCOMP) edged up 0.2%, the Hang Seng (HSI) in Hong Kong fell 0.7% and Japan's Nikkei (N225) lost 0.3%.
Currencies and commodities: The dollar gained strength against the euro and the British pound but fell versus the Japanese yen.
Oil for February delivery rose 31 cents to $99.05 a barrel.
Gold futures for February delivery fell $23.20 to $1,540.90 an ounce.
Bonds: The price on the benchmark 10-year U.S. Treasury rose, with the yield easing to 1.89% from late Wednesday.