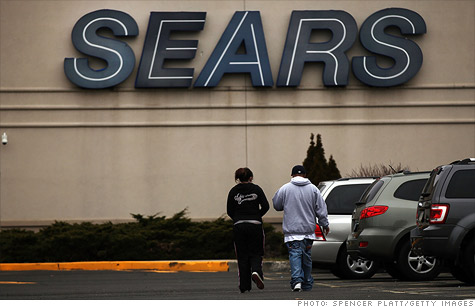 Between 100 and 120 Sears and Kmart stores are set to close in the upcoming months.
NEW YORK (CNNMoney) -- Sears Holdings has released a partial list of the Sears and Kmart stores set to close as a result of the company's poor sales this holiday season.

Sears (SHLD, Fortune 500) said earlier this week that it planned to close between 100 and 120 stores at an unspecified time in the near future.
On Thursday, the firm released a list of 79 that are set to be shuttered nationwide.

Sears said in a statement that it could not provide an estimate of the job losses coming as a result of these closures because employment "varies by store and format." The dates on which the stores will close have yet to be announced. (See the list.)
Sears Holdings is one of the nation's largest retailers with more than 4,000 stores in the United States and Canada.

The company said earlier this week that sales at stores open at least a year, known as same-store sales, tumbled 5.2% in the eight weeks leading to Christmas Day.
That came from a 4.4% drop in sales at Kmart stores and a 6% slide in sales at domestic Sears stores.

Shares of Sears Holdings are down more than 55% so far this year.