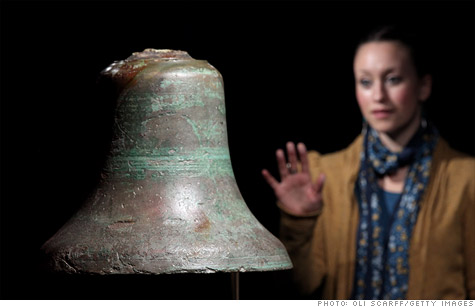 The crows nest bell from the Titanic on exhibit in London in 2010. The owner of more than 5,000 artifacts from the ship plans to auction them off as a group in April.
NEW YORK (CNNMoney) -- The owner of more than 5,000 artifacts recovered from the Titanic intends to auction them off in April on the 100th anniversary of the sinking of the famous ship.
But don't expect to be able to bid on any one item from the ship. The artifacts will only be sold as a single lot, according to a filing by Premier Exhibitions (PRXI), an Atlanta-based company that now exhibits the artifacts at various locations around the world.
Premier Exhibitions, the owner of the artifacts which disclosed the sale plans in a filing with the Securities and Exchange Commission, was not available for comment Thursday. Its New York auction house, Guernsey's, did not have a comment.
The filing from Premier said that the collection had an appraised value in 2007 of $189 million. It said it has added to its collection since that time.
It said if acceptable bidders are not identified by April 1, the auction will be canceled. Results of the auction are due to be announced April 15, the anniversary of the ship's sinking.
Expeditions to the wreck site in 1987, 1993, 1994, 1996, 1998, 2000, 2004 and 2010 recovered the artifacts in the collection.