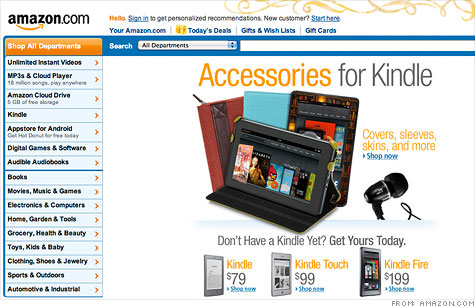 NEW YORK (CNNMoney) -- Amazon.com, the world's largest online retailer, said its series of Kindle e-readers and tablets were the top three most-popular purchases in December.
As the company stated earlier in the month, customers bought more than one million Kindles a week during the holiday shopping season.
Since the Kindle's 2007 launch, Amazon (AMZN, Fortune 500) has refused to disclose its actual Kindle sales numbers. Yet Amazon reiterated Thursday, in a statement on overall holiday sales, that the new $199 Kindle Fire tablet is the top-selling item on its website.
As the Kindle flew off virtual shelves, e-books did too. People gave 175% more e-books as gifts this holiday season than they did last season, Amazon said, noting that Christmas Day was the biggest day ever for Kindle book downloads.
Books were not only purchased in their digital form. Amazon said that customers bought enough copies of Walter Isaacson's "Steve Jobs" biography -- the season's best-selling book on Amazon -- to create a stack taller than Mt. Everest.
Rory's Story Cubes were the top-selling toy, with about 1 million sold, and Amazon customers bought about 4 million copies of Just Dance 3, making it the best-selling video game of the season.
Levi's jeans were the most-purchased clothing items. In fact, Amazon customers bought enough jeans that, when folded and stacked, would make 2,500 Statue-of-Liberty-sized piles.
Michael Bublé's "Christmas" was the best-selling CD, and Warner Bros.' "Harry Potter and the Deathly Hallows, Part 2" was the top DVD of the season. Warner Bros. is owned by Time Warner (TWX, Fortune 500), CNNMoney's parent company.
Amazon also said that the Motorola (MMI) Droid RAZR was the best-selling cell phone, Baby Einstein Take along Tunes was the top item for babies, and UGG boots were the most-purchased shoes.
The company said the very last gift purchased in time for Christmas delivery was an order for a book called "The Cook's Herb Garden" that was placed on Dec. 23 at 2:59 a.m. ET and delivered to Ballwin, Mo.
Though Amazon didn't give any overall sales figures, it described the holiday season as a success, noting that third-party retailers experienced record holiday growth. Amazon said the number of sellers who exceeded $5,000 in sales during the holiday season increased 44% over last holiday season.
Online data tracker comScore said Thursday that the e-commerce industry as a whole grew 15% this holiday season over last, as U.S. online shoppers spent $35.3 billion in the past 56 days.
Yet Heather Bellini, analyst at Goldman Sachs, saw that as a warning sign.
Bellini noted Thursday that over the past five years, Amazon's fourth-quarter growth has typically outpaced the e-commerce industry's holiday season by 23 percentage points. That would mean that Amazon grew roughly 38% this quarter.
But that would translate to just $17.9 billion in sales, below the $18.2 billion median forecast of analysts polled by Thomson Reuters.
"While the comScore numbers are just one data point which does not capture international sales or breakout individual companies' sales, taken alone they seem to suggest the potential for downside risk to consensus forecasts for the fourth quarter," Bellini wrote in an analyst note.
She also noted that Amazon is potentially overpriced, since investors expect analysts' earnings estimate to be raised. But given her dour forecast, she now sees that scenario as "unlikely."
Investors might have been a little rattled by Bellini's note -- shares of Amazon (AMZN, Fortune 500) fell about 2% on Thursday.