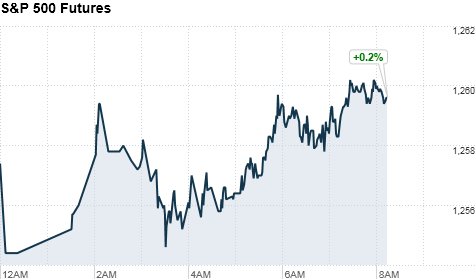 Click chart for more premarket data.
NEW YORK (CNNMoney) -- U.S. stocks were set to open slightly higher Friday, the final trading day of 2011, as investors bid farewell to an otherwise volatile year.
Dow Jones industrial average (INDU), S&P 500 (SPX) and Nasdaq (COMP) futures were all slightly higher ahead of the opening bell. Stock futures indicate the possible direction of the markets when they open at 9:30 a.m. ET.
U.S. stocks rose Thursday in a thinly traded session as investors focused on signs of strength in the economy before calling it a year.
Thursday's rebound put the S&P 500 back on track for a modest 0.4% gain in 2011, after the broad market index fell sharply Wednesday. The Dow is currently up 6.1% for the year, while the Nasdaq is set for a 1.5% loss.
If stocks manage to end 2011 higher, it will mark the third straight year of gains for the major indexes.
Meanwhile, the main reason the Dow is faring better than the S&P this year is simply because it carries fewer financial stocks. Of the 30 components on the Dow, only four are financial -- Bank of America (BAC, Fortune 500), JPMorgan Chase (JPM, Fortune 500), Travelers (TRV, Fortune 500) and American Exprss (AXP, Fortune 500).
Compare that the S&P 500, which has 36 financial-related stocks, including major banks Goldman Sachs (GS, Fortune 500) and Citigroup (C, Fortune 500), along with troubled insurer AIG (AIG, Fortune 500) and Warren Buffet's Berkshire Hathaway (BRKA, Fortune 500).
Friday is shaping up to be a quiet day as many investors have already closed their books for the year.
Traders said low volume, typical of the holiday week, has led to more pronounced swings this week, with some of the moves coming from year-end portfolio rebalancing rather than convictions over the trajectory of the market or particular stocks.
Investors will be happy to put 2011 to bed. The markets had a choppy year to say the least. From Japan's devastating earthquake to Europe's worsening debt crisis to the ongoing bickering in Washington, stocks experienced some violent swings so it's little wonder that investors are hoping for a quiet end to the year.
Economy: A reading on December data showed Chinese manufacturing continued to slow. HSBC's early reading of its China purchasing managers index saw a 1-point increase to 48.7, but that figure remains below to 50 threshold for expansion of the sector.
Companies: Shares of American Airlines parent AMR Corp. (AMR, Fortune 500) plunged 39% following news that the company was being delisted from the NYSE as of Jan. 5.
The delisting is occurring because AMR's share price failed to average $1 over the past 30 days -- the minimum requirement set by the NYSE for listed stocks.
Shares of Yahoo (YHOO, Fortune 500) extended the previous days gains, risising 1.6%, following reports that China's Alibaba Group had hired a lobbying firm to prepare a bid for the U.S. web search pioneer.
World markets: European stocks were mixed in morning trading. Britain's FTSE 100 (UKX) fell 0.3%, Germany's DAX (DAX) edged up 0.2% and France's CAC 40 (CAC40) slipped 0.1%.
Asian markets ended mostly higher. The Shanghai Composite (SHCOMP) gained 1.2%, the Hang Seng (HSI) in Hong Kong edged up 0.2% and Japan's Nikkei (N225) added 0.7%.
Currencies and commodities: The dollar gained against the euro, but slipped versus the British pound and the Japanese yen.
Oil for February delivery rose 25 cents to $99.91 a barrel.
Gold futures for February delivery added $31.80 to $1,572.70 an ounce. That helped boost shares of gold ETF SPDR Gold Trust (GLD) as well as iShares Silver Trust (SLV).
Bonds: The price on the benchmark 10-year U.S. Treasury was little changed, with the yield holding at 1.90%.