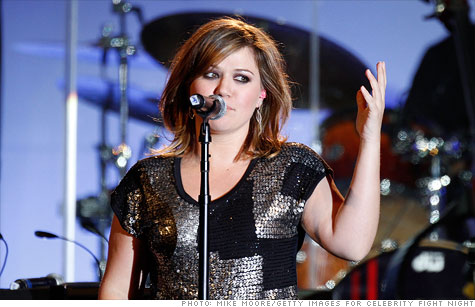 Kelly Clarkson said on Twitter Thursday that Ron Paul had her vote in the Republican primary.
NEW YORK (CNNMoney) -- A word of advice to prospective American Idol contestants: vote libertarian.

One day after she announced her support for Republican presidential candidate Ron Paul on Twitter, sales of pop singer Kelly Clarkson's most recent album were surging Friday on Amazon.com.

Sales of Clarkson's album Stronger shot up 442% between Thursday and Friday afternoon on Amazon (AMZN, Fortune 500), moving the album from #38 to #7 on Amazon's sales list.
While there's no way to tell whether her support for Paul was the only reason for this jump, the endorsement clearly made a difference for some fans.
"I must admit I have not really followed you but your recent stance on Ron Paul made me check you out," one fan wrote Friday in a review of the album on Amazon. "If you are smart enough to support Ron Paul then you are probably talented too."

"JUST DISCOVERED YOU...BECAUSE OF RON PAUL!" another wrote. "The energy of these songs would be great as Ron Paul event background music."
On Thursday, Clarkson wrote on Twitter that if the libertarian candidate "wins the nomination for the Republican party in 2012 he's got my vote."
"I love Ron Paul. I liked him a lot during the last republican nomination and no one gave him a chance," she wrote in an extended tweet.

Although she identified herself as a Republican, the former American Idol champ said she "voted Democrat last election." And this go-round, "Out of all of the Republican nominees, he's my favorite," she said.
The Paul campaign thanked Clarkson for her "kind words" in a tweet on Thursday.
News of Clarkson's Amazon sales was picked up Friday by the Hollywood Reporter. Her album sat at #39 on the Billboard album charts as of Friday afternoon, though it was up to #13 on Apple's iTunes charts.

CNN's Political Unit contributed to this report.