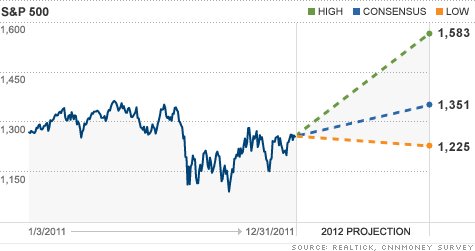 Investment strategists and money managers surveyed by CNNMoney expect the S&P 500 will rise 7%, on average, in 2012. Click the chart for more stock market data.
NEW YORK (CNNMoney) -- The stock market's stomach-churning roller coaster will keep running, but unlike last year's flat finish, Wall Street experts anticipate stocks will end 2012 on a high note.
Investment strategists and money managers expect the S&P 500 will rise 7%, on average, in 2012, according to an exclusive CNNMoney survey. While that's nothing to rejoice about, it's an improvement from last year's 0.003% decline -- the smallest year-over-year change in the broad index in history.
"As long as we hold it together and things don't fall apart, I think the stock market could have a reasonable run this year," said Adrian Day, president of investment firm Adrian Day Asset Management, whose year-end target for the S&P 500 fell right in line with consensus estimates of 1,350.
However, given that the United States and Europe are dealing with "fundamental problems" like extremely high debt levels and weak economies, last year's volatility will likely carry over, added Day.
"People remain nervous and uncertain about the global outlook," he said. "Even if the U.S. and European situations improve, it's unlikely that we'll get fundamental solutions anytime soon, so investors will continue to react to headlines day by day."
While Schaeffer's Investment Research's Ryan Detrick agrees that debt problems will result in ongoing volatility, he's more optimistic about the market's overall performance for the year.
"Europe's problems are obviously still out there, and there's potential for more curve balls, but we're making a bullish assumption: things won't spiral out of control and we will get some good news," said Detrick, whose year-end target for the S&P 500 stands at 1,450, which translates to an impressive 15% gain for the year.
Detrick added that continuing signs of a U.S. economic recovery will also support the market.
But not all experts are as confident, with some saying that there are just one too many hurdles to overcome.
"I expect global growth will continue to slow in 2012," said Mark Luschini, chief investment strategist at Janney Montgomery Scott, citing the Organization for Economic Cooperation and Development's expectations for stalled global growth around 1.6% in 2012. That would be down from 1.9% in 2011 and sharply below the 3% growth in 2010.
The slowdown will make gains in the stock market hard to come by, said Luschini, who expects the S&P 500 will finish 2012 right around where it started the year.
"A recession is inevitable in Europe -- now there's only a question of severity and duration," he noted. "U.S. economic growth will remain lackluster, and growth in emerging markets will also slow, as China, which has been the major engine of global growth, loses steam."
And to add to the laundry list of unknowns, investors have no idea who will end up in the White House.
As uncertainty mounts and market volatility ensues, investors will remain sidelined, claimed Luschini.
The number of significant unanswered questions have led some analysts to forecast admittedly laughable wide-ranging estimates.
"There are too many wildcards out there this year," said Kim Caughey Forrest, senior equity analyst at Fort Pitt Capital Group. On one hand, she says the S&P 500 could drop 20%, while on the other hand, the index could surge 17%.
"It's all going to come down to the mood of investors, and how much they're willing to pay up in the face of all the factors that could severely limit growth in the near-term," said Forrest.