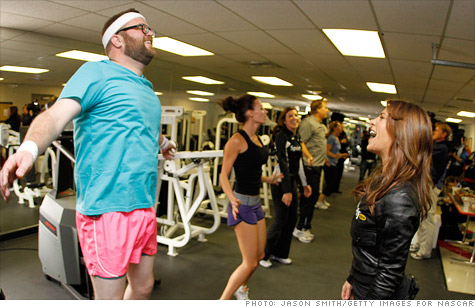 This year's crop of Super Bowl ads will once again feature fitness scream queen Jillian Michaels in her most recent in incarnation as a Go Daddy girl.
NEW YORK (CNNMoney) -- Super Bowl 2012's ad spots have sold out at record high prices, according to NBC Sports, which is broadcasting the event from Indianapolis on Feb. 5.
Advertisers have paid an average of $3.5 million each for 30-second spots, according to NBC Sports.
The broadcaster said that 70 of the 30-second spots have been sold, but would not identify the advertisers.
Go Daddy, a retailer for Internet domains, said that it will advertise in its eighth consecutive Super Bowl this year with two 30-second spots.
Go Daddy said that its ads will once again feature race car driver and model Danica Patrick and fitness guru Jillian Michaels.
Century 21 Real Estate said that it has also purchased a 30-second ad, becoming a Super Bowl advertiser for the first time.
Anheuser Busch InBev (BUD), which is typically the most prolific Super Bowl advertiser, did not immediately return messages from CNNMoney as to how many spots the brewer purchased this year.
Volkswagen, which had one of last year's most popular ads featuring a diminutive Darth Vader, was also not available for comment.