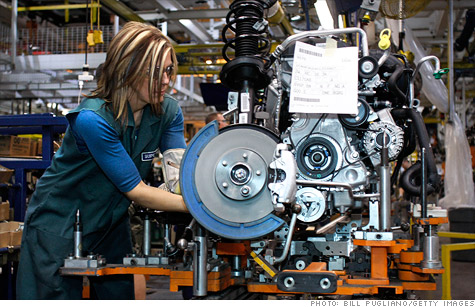 ISM manufacturing report shows continued improvement in sector as new orders, backlogged orders and employment all improve.
NEW YORK (CNNMoney) -- Manufacturing grew at a faster pace in December, according to a closely-watched reading on the health of the sector.
The Institute of Supply Management's survey of manufacturing purchasing managers rose to 53.9 from 52.7. That's a bit better than the 53.4 forecast of economists surveyed by Briefing.com.
Any reading above 50 indicates improvement in the sector.
The survey also showed even stronger growth in its employment reading, as 23% of those surveyed reported increased staffing levels, while only 19% reported trimming their workforce.
The December figures marked the 29th straight month of growth in overall manufacturing, according to the survey.
The ISM survey also found new orders and the backlog of orders growing from November levels. Both are relatively recent turnarounds compared to the longer-term growth in the overall reading.
"All in all, an upbeat report, suggesting that production, orders, and employment in the manufacturing sector ended the fourth quarter on a relatively strong note," said economist Peter Newland of Barclays Capital in a note Tuesday. "This provides encouraging momentum heading into 2012."
But other economists said it's important not to read to much into the end of the year strength. Some of it may have been from businesses scrambling to make big ticket purchases before losing a tax break at the end of the year to write off the cost of that investment more quickly.
And while the fears of the U.S. falling into a new recession this year have retreated with recently improved readings on spending, employment and confidence, there are many headwinds still facing the U.S. economy, particularly from overseas.
"It is hard to see the U.S. economy strengthening this year when the eurozone is on the cusp of a potentially severe recession and when growth in Asia is set to slow," said Paul Dales, chief U.S. economist for Capital Economics.