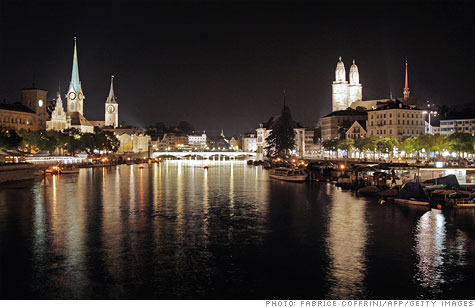 Three Zurich-based bankers face conspiracy charges in the U.S.
NEW YORK (CNNMoney) -- Three Swiss bankers have been charged with helping American taxpayers hide more than $1.2 billion from the Internal Revenue Service, the U.S. Attorney's Office in Manhattan announced Tuesday.
Michael Berlinka, Urs Frei and Roger Keller face up to five years in prison for their roles in the scheme, the U.S. Attorney's Office said. They are accused of helping more than 100 clients hide assets between 2005 and 2010.

The indictment identifies the defendants' place of employment only as the Zurich branch of "Swiss Bank A," though Albena Bjoerck, a spokeswoman for the Swiss bank Wegelin & Co., confirmed Wednesday that the accused were employed there.

"Wegelin & Co. remains committed to assisting in the clarification of matters regarding former U.S. clients and has authorised its lawyers in the United States to negotiate with the U.S. justice authorities to the extent possible under Swiss law," Bjoerck said.

She added that Wegelin has been examining its business with U.S. clients "in minute detail" since April of last year, and "has in the meantime ceased all dealings with U.S. clients." The employees in question, she said, "have taken on other tasks within the bank."

The three accused currently reside in Switzerland, according to the indictment, and it wasn't clear Tuesday if or when they might face extradition. A spokeswoman for the U.S. Attorney's Office declined to comment on the matter, and the Swiss Embassy in Washington did not return a request for comment.

In 2009, the U.S. government settled a tax fraud case involving American customers with Swiss banking giant UBS that proved diplomatically challenging due to Switzerland's strict bank secrecy laws. UBS ultimately paid $780 million in fines and restitution and agreed to hand over the identities of a number of its U.S. customers.
Tuesday's indictment alleges that as UBS and another unidentified Swiss bank stopped handling undeclared U.S. accounts in 2008 and 2009 amid scrutiny from American authorities, the defendants' firm attempted to scoop up their business.

"As part of their sales pitch to U.S. taxpayer-clients who were fleeing UBS, [the defendants] told U.S. taxpayer-clients that their undeclared accounts at Swiss Bank A would not be disclosed to the United States authorities because Swiss Bank A had a long tradition of bank secrecy," the indictment states.

The case has been assigned to Judge Jed Rakoff, who has made headlines for his hard-charging approach to financial crime in cases against firms like Bank of America (BAC, Fortune 500) and Citigroup (C, Fortune 500).