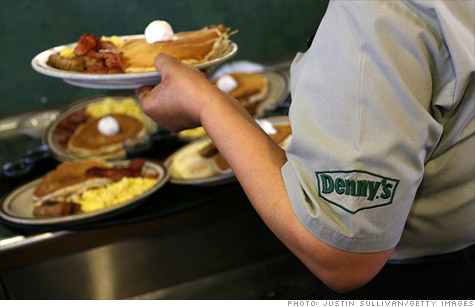 The chain, known for its "Grand Slam" breakfast, said there will be a "modest menu increase" this year.
NEW YORK (CNNMoney) -- Your latte already costs more and now your bacon and eggs will, too.
One day after Starbucks announced it was increasing prices on some of its beverages, Denny's (DENN), the national restaurant chain with just over 1,600 locations, said it too is considering a price hike this year.
"Denny's is looking at a very modest menu increase," according to Liz Brady, a spokeswoman for the company. She would not say when the change would take effect.
The chain, which is known for its American fare like country-fried steak and the "Grand Slam" breakfast, said the expected hike is based on analysts' expectations for a 3% to 5% increase in the cost of ingredients this year.
In its most recently reported quarter ended Sept. 28, the company said net income and revenue were lower than the year prior -- although same-store sales were higher. At that time, President and Chief Executive John Miller cited "a very challenging consumer and inflationary economic environment" for the declines.
Last June, Denny's raised prices by less than 1% across-the-board when it introduced its "Fit Fare" menu items.
On Tuesday, Starbucks (SBUX, Fortune 500) also pointed to the rising cost of ingredients as one of the reasons it was raising prices for its coffee drinks.