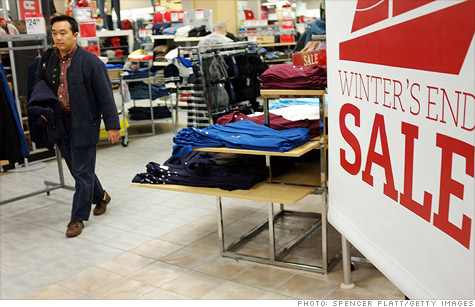 NEW YORK (CNNMoney) -- The income divide in the U.S. is not only evident in unemployment lines and protests outside Wall Street, but also in the way consumers shopped during the holidays.
Although retailers declared the shopping season a success overall, strong sales were not shared across the board. That was reflected in December's same-store sales reports, which measures sales at stores that have been open for at least a year and is an important gauge of a retailer's health.
While high-end stores like Saks (SKS) and Nordstrom (JWN, Fortune 500) strongly outperformed the year before, stores geared toward shoppers in the middle and lower income brackets like Gap (GPS, Fortune 500) and Kohl's (KSS, Fortune 500) fell short of where they were just one year ago.
"We have an economy that's very divided among the affluent and the less affluent -- the chains that attract middle- and low-income shoppers are barely showing growth," said Candace Corlett of WSL Strategic Retail, a New York-based consulting firm.
Target (TGT, Fortune 500) also fared worse than expected this season as persistently high unemployment and uncertainty about the economy weighed on their core customers, while sales at Macy's (M, Fortune 500) and Bloomingdale's were strong.
"The shrinking middle class is really showing up in retail -- retailers that cater to the middle class got hurt the most," explained Sherif Mityas, partner in the retail practice of A.T. Kearney, a New York-based consulting firm.
Because of their poor performance during the season, those retailers had to rely heavily on sales and promotions to motivate cash-strapped consumers this season, even in the days right before Christmas when shoppers usually pay a premium to snag those last-minute gifts.
Some stores -- like Target and Best Buy (BBY, Fortune 500) -- introduced added incentives like flash sales, giveaways and extended hours to lure more shoppers as the season progressed. Toys R Us stayed open around the clock for more than four days before Christmas Day.
A holiday season that kicked off with record-setting shopping days on Black Friday and Cyber Monday and ended with a stampede for post-Christmas sales made one thing clear -- many Americans needed those discounts and promotions to salvage the season.
"Retailers have learned they can get the sales, but they have to put the right deal on the table," Mityas said. And until the economy improves, "the only way to drive traffic now is to further discount," he added.
But all those 40%, 50% and 60%-off sales will take a toll on margins, which were already narrower than they were a year ago because of the rising cost of materials and transportation.
And that does not bode well for those stores going forward, Mityas said. "Discounts are going to give you some sales but you're not going to make any money."