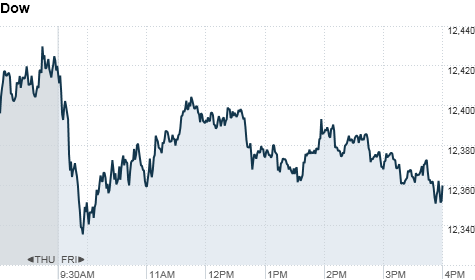 Click for more market data.
NEW YORK (CNNMoney) -- U.S. stocks ended mostly lower Friday as worries about Europe's debt crisis dampened enthusiasm over a better-than-expected report on U.S. payrolls.
The Dow Jones industrial average (INDU) fell 56 points, or 0.4%, to end at 12,360. The S&P 500 (SPX) shed 3 points, or 0.2%, to 1,278. The Nasdaq (COMP) edged up 4 points, or 0.1%, to 2,674.
For the week, the Dow edged up 1.2%, and the S&P 500 added 1.6%. The Nasdaq gained 2.7%. See correction below.
While Friday's big jobs report beat expectations, some analysts said it was skewed by seasonal factors. Others said the response was muted because investors were anticipating a big gain.
"The news is good," said Richard Cripps, chief market strategist for St. Louis-based broker Stifel Nicolaus. "But we're not seeing any conviction in either selling or buying."
In any event, traders said the market remains stymied by worries about government debt and banking problems in Europe.
Government borrowing costs remain at elevated levels in Europe, with the yield on the 10-year Italian bond above 7% yet again. Spanish bond yields also remain on the high side, with the 10-year hovering around 5.6%.
The euro fell 0.6% versus the dollar, holding at a 15-month low.
Meanwhile, shares of European banks have been under pressure this week amid fears about their ability to raise capital.
In the United States, shares of Bank of America (BAC, Fortune 500), JPMorgan Chase (JPM, Fortune 500), Goldman Sachs (GS, Fortune 500) and Morgan Stanley (MS, Fortune 500) all fell between 1% and 2%.
U.S. bank stocks had rallied late Thursday as speculation mounted about a government refinancing program for troubled homeowners.
"This continues to be a headline-driven market, and it can change in a heartbeat," said Ted Weisberg, president of Seaport Securities. "That's reflected in the lack of confidence and low trading volumes because investors are skeptical."
Economy: The U.S. economy gained 200,000 jobs in December, according to the Labor Department. Economists had expected a gain of 150,000 jobs.
In addition to the stronger jobs numbers, the unemployment rate fell more than expected, sliding to 8.5% in December.
Economists were forecasting the unemployment rate to tick up to 8.7% from 8.6% in November, mainly due to discouraged workers -- who had previously given up their job searches -- re-entering the labor force.
World markets: European stocks ended mixed. Britain's FTSE 100 (UKX) edged higher 0.4%, but France's CAC 40 (CAC40) eased 0.3%, and the DAX (DAX) in Germany lost 0.6%.
Early Friday, Fitch Ratings cut Hungary's credit rating by one notch, pushing it into junk territory. While Hungary doesn't use the euro as its currency, it's just one more reminder about Europe's overall debt problems.
Asian markets ended mixed. The Shanghai Composite (SHCOMP) gained 0.7%, while the Hang Seng (HSI) in Hong Kong lost 1.2% and Japan's Nikkei (N225) fell 1.2%.
Companies: Shares of Dow component Alcoa (AA, Fortune 500) fell 2% after the aluminum producer said it will cut its global smelting capacity 12% in response to a drop in aluminum prices.
Alcoa will report fourth-quarter financial results next week, kicking off the latest round of corporate earnings and sales data.
Overall, earnings for the companies in the S&P 500 are expected to be up 7.5% in the final three months of 2011, versus the same period in 2010. Sales are forecast to rise 8.6% in the quarter, according to research from S&P Capital IQ.
Shares of Family Dollar (FDO, Fortune 500) fell 7% after the discount retailer said Thursday that earnings rose in the most recent quarter, but sales came in lower than expected.
Currencies and commodities: The dollar rose against the euro, the British pound and the Japanese yen.
Oil for February delivery lost 53 cents to $101.28 a barrel.
Gold futures for February delivery fell $3.30 to $1,616.80 an ounce.
Bonds: The price on the benchmark 10-year U.S. Treasury rose, pushing the yield down to 1.96%.
Correction: An earlier version of this story had the wrong weekly gains for the Dow, S&P 500 and Nasdaq.