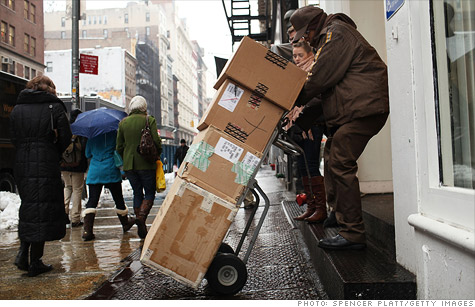 UPS and FedEx hired tens of thousands of extra workers for the holiday season, but many of them are already out of work again.
NEW YORK (CNNMoney) -- So the U.S. economy added hundreds of thousands of jobs last month and everything is fantastic, right?
Well, not exactly. More than 40,000 of those jobs were couriers and messengers, which were in demand during the holidays because of the increased focus on online shopping rather than retail. But these jobs tend to be temporary seasonal hires and not permanent additions.
"People are happy to get those jobs for the time they have them, but come January, they're out looking for jobs again," said Dean Baker, co-director of the Center for Economic and Policy Research.
The U.S. Labor Department reported that the economy added 200,000 jobs, which was stronger than economists expected, and the unemployment rate dipped to 8.5%.
But spokeswomen for FedEx (FDX, Fortune 500) and UPS (UPS, Fortune 500) confirmed that they increased temporary hiring during the 2011 holiday season even more than the year before. However, many of those jobs have already evaporated.
"The hiring boost this holiday season was greater than the prior holiday season," said Kara Ross of UPS, noting that her company hired 55,000 temporary workers for the 2011 holiday season, an increase of 5,000 from the year before.
Ross said that many of those new hires were drivers, driver helpers, loaders and unloaders. Many of them won't remain on the payrolls after the holiday season, she said, though the level of attrition is yet to be determined.
"It just depends on our volume loads," she said. "Some of them we might keep on; some of them we might not."
Carla Boyd of FedEx said her company hired 20,000 temporary seasonal workers from October to December, an increase of 17,000 from the prior holiday season.
"There's an incredible holiday surge," said Boyd. "We had our busiest day in history on Dec. 12."
On that day, FedEx had 17 million shipments, compared to the year-ago holiday peak of 15.6 million. But the annual average is 8.5 million, so FedEx doesn't need that many workers year-round.
"The problem is that you have a lot of reporters touting this as a really strong report, and if that creates a view among policy makers that the economy is on the mend, then that undermines the need to do anything," said Baker.