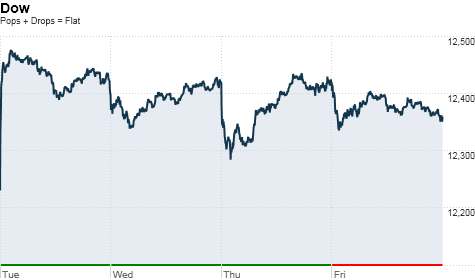 Click for more market data.
NEW YORK (CNNMoney) -- Investors are gearing up for the unofficial start of corporate earnings season, but they're also bracing for another round of bad headlines out of Europe.
That means stocks will probably bounce around next week as the market remains torn between rising hopes for the U.S. economy and the ever-present government debt and banking problems in Europe.
Stocks rose last week, kicking off the New Year on a high note. The Dow Jones industrial average added 1.2%. The S&P 500 rose 1.6% and the Nasdaq gained 2.7%.
But the tone on Wall Street has been cautious and trading volumes have been low. Many investors have taken to the sidelines rather than commit to stocks.
That could change in the coming weeks as U.S. companies begin to release fourth-quarter reports and corporate leaders discuss the outlook for 2012.
Overall, earnings for the companies in the S&P 500 are expected to be up 7.5% in the final three months of 2011, versus the same period in 2010. Sales are forecast to rise 8.6% in the quarter, according to research from S&P Capital IQ.
"Expectations are for a very nice increase in earnings from the same quarter a year ago," said Richard Cripps, chief market strategist for St. Louis-based broker Stifel Nicolaus. "But what's more important for the market is that there is some kind of progress on the macro issues in Europe."
In Europe, German Chancellor Angela Merkel and French President Nicolas Sarkozy will meet in Berlin on Monday to prepare for a summit of European Union leaders later this month.
The meeting will come days before Italy and Spain hold their first bond auctions of the year. Italy and Spain both need to refinance billions of euros worth of debt and investors have been demanding higher interest rates amid worries about the governments' ability to enact reforms.
"The focus in the coming week will be on the supply side, where Spain on Thursday and Italy on Friday will make their auction debuts this year following the substantial rise in yields in the past week," said Tobias Blattner, eurozone economist at Daiwa Capital Markets, in a note to clients.
Investors will also be keeping an eye on Greece, where Prime Minister Lucas Papademos needs to push through more austerity reforms to secure more bailout funds later this year. In addition, talks with private sector investors and banks over a voluntary 50% reduction in the value of Greek government bonds have been progressing at a slow pace.
The European Central Bank is expected to hold interest rates steady at 1% when its governing council meets Thursday in Frankfurt. The ECB cut rates last month and announced a series of "non-standard" measures to help banks avoid a credit crunch.
Despite the central bank's efforts, worries about the capital needs of European banks intensified last week after Italy's UniCredit struggled to find buyers for a stock offering.
Back in the United States, investors will be focused on corporate results and economic reports such as data on retail sales.
Alcoa (AA, Fortune 500), the harbinger of earnings season, will report fourth-quarter results Monday. The aluminum producer is expected to report a loss of two cents per share, according to analysts surveyed by Thomson Reuters. Sales are forecast to edge up 1% to $5.7 billion.
JPMorgan Chase (JPM, Fortune 500) will set the tone for the banking sector Friday when it releases its latest quarterly report. The giant financial services company is expected to report fourth-quarter earnings of 93 cents per share, down 17% from the same period last year.
The main attraction on the economic calendar is Thursday's report on December retail sales from the Commerce Department. Other items include data on consumer credit, weekly claims for unemployment benefits and the U.S. trade balance.
Investors have been encouraged by a recent string of upbeat reports on the U.S. economy, including a larger-than-expected increase in hiring and a drop in the unemployment rate during December.
Meanwhile, the automotive and technology sector may get some attention next week when two key trade shows get underway.
General Motors (GM, Fortune 500), Ford (F, Fortune 500) and Chrysler will be showcasing their latest models at the North American International Auto Show in Detroit.
In Las Vegas, the Consumer Electronics Show will bring together top executives from industry leaders including Microsoft (MSFT, Fortune 500), Qualcomm (QCOM, Fortune 500) and Intel (INTC, Fortune 500).