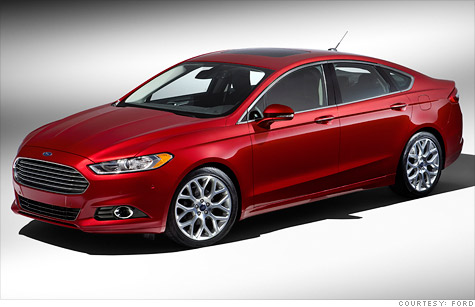 The redesigned mid-size sedan will go on sale as the 2013 Ford Fusion later this year.
NEW YORK (CNNMoney) -- Ford Motor Company unveiled new, fully redesigned versions of its popular Fusion mid-sized sedan at the Detroit auto show. The new line-up will include Ford's first plug-in hybrid sedan.
Like the current Ford Fusion, the new Fusion will be available in gasoline-only and gas-electric hybrid versions -- as well as the new plug-in hybrid version. The plug-in hybrid will be called the Fusion Energi.
The Fusion Energi will be the most fuel-efficient mid-sized car in the world, Ford said. The car is expected to deliver more than 100 MPGe (miles per gallon equivalent) when driving on plug-in battery power. That would be better than either GM's (GM, Fortune 500) Chevrolet Volt and Toyota's (TM) Prius Plug-in.
"Miles per gallon equivalent" is a measure of how far a car drives on an amount of electricity equivalent to the energy contained in one gallon of gasoline.
There are other changes in store for the Fusion, as well. The new Fusion Hybrid -- the non-plug-in version -- will have a lithium-ion battery that is lighter and stronger than the nickel-metal hydride batteries in the current Fusion Hybrid, Ford said. It will be capable of cruising as fast as 62 miles per hour under electric power alone, according to Ford.
The gasoline-only Fusion will feature an automatic stop-start system that will shut off the engine when the car comes to a full stop, saving gasoline usually used to keep the engine idling at stop lights and stop signs.
The Fusion Energi will not be Ford's first plug-in vehicle.
Ford (F, Fortune 500) already sells an all-electric version of the Transit Connect electric van. Plus, a Ford Focus Electric, an all-electric plug-in hatchback, is expected to go on sale soon. A plug-in hybrid wagon, the Ford C-Max Energi, will go on sale before the Fusion.
The Fusion Energy will go on sale in Europe next year as the Ford Mondeo. Up to now, the Fusion and Mondeo have been entirely different, albeit similarly sized, cars. But Ford has been working to have fewer different models around the world. To that end, the next-generation Ford Escape will be the same as the Ford Kuga SUV sold in Europe while the Focus and Fiesta small cars are also be the same cars in the U.S. as elsewhere.
Pricing for the new Fusion models will be announced later this year, closer to the time the car goes on sale.