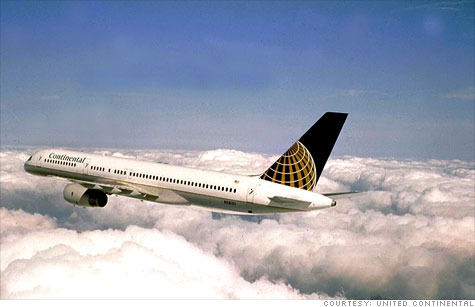 A Boeing 757 jet operated by Continetnal Airlines. An increasing number of flights flying west across the Atlantic are having to make stops for fuel due to high headwinds.
NEW YORK (CNNMoney) -- Many non-stop flights from Europe to the U.S. aren't: Unusually high winds are forcing airlines flying west across the Atlantic to make unscheduled stops to take on more fuel.
The conditions are causing inconveniences to fliers who are often missing connections once they land, costing the airlines money to rebook or otherwise compensate their customers.
United Continental Holdings (UAL, Fortune 500), which is operating under both the United Airlines and Continental Airlines brands as it moves to complete its merger, said it diverted 43 out of 1,100 flights in December using the Boeing (BA, Fortune 500) 757 jet flying from Europe to the United States. A year earlier it only had to divert 12 flights.
Company spokeswoman Megan McCarthy said the winds were typically 30 knots in December the previous decade, but they averaged 47 knots last month, with half the month averaging 60 knots.
The unusually high winds and the flight diversions have continued in the first 11 days of January, she said, although she did not have any statistics.
Other airlines have also been affected. AMR (AAMRQ) unit American Airlines said it has happened occasionally on the trans-Atlantic routes on which it uses the 757, although it could not provide statistics.
McCarthy does not have any estimates on costs to the airlines from the high winds, but said most of the costs have been associated with payments to customers.
"We have been offering compensation as a gesture of good will when circumstances merit," she said.
The eastbound flights are saving fuel due to the unusually strong tail winds. The high winds have also been associated with an unusually mild start to winter in the United States, which has saved the airlines money as well.
The planes typically land at Gander and Goose Bay in the Canadian province of Newfoundland and Labrador. But other fueling stops have been made in Iceland, Ireland, Nova Scotia, Albany, N.Y., and even Stewart International Airport, only 60 miles north of New York City.
Some larger planes have a longer range and are not having to make as many extra stops to refuel. But the 757, which holds about 169 passengers, is common on trans-Atlantic flights.
McCarthy said it has been used for years by both Continental and United, and was not something that was introduced on the routes as a result of the recent merger of the two carriers.