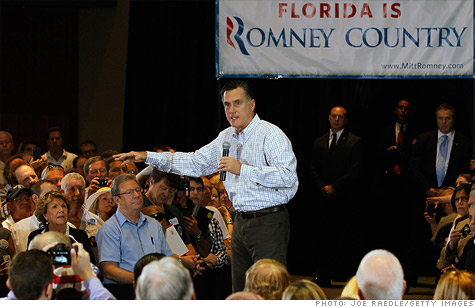 Mitt Romney and Bain Capital are under fire.
NEW YORK (CNNMoney) -- Republicans attacking Mitt Romney's tenure at Bain Capital got a stern rebuke Thursday from the Chamber of Commerce.
Chamber president Tom Donohue said the attacks on the Republican frontrunner are "foolish" during the group's "State of American Business 2012" event in Washington.
Romney has been repeatedly criticized by fellow Republicans in recent days over perceived injustices perpetrated by private equity firm Bain Capital while Romney was its chief executive.
"I was very disappointed with the intramural carrying on within the Republican party," said Donohue, who wields substantial power in Washington's corridors of power.
Donohue, who noted that the Chamber does not usually comment on presidential politics, defended Romney.
"We think Romney's had a pretty good track record. Perfect? Hell no. But damn good," he said.
Newt Gingrich and Rick Perry have been particularly vocal in their criticisms of the former Massachusetts governor.
"There is something inherently wrong when getting rich off failure and sticking it to someone else is how you do your business," Perry said Monday in South Carolina. "And I happen to think that is indefensible."
What Romney did at Bain Capital was use leverage to acquire companies, improve them, and sell them at a profit. Along the way, several of those companies failed, and some workers lost their jobs.
At the same time, some of the companies Bain Capital invested in did quite well, and Romney helped create millions in profits.
The direct arrow-slinging between candidates has yet to abate, and a 28-minute "documentary" film released Wednesday by a super PAC that supports Gingrich could add fuel to the fire.
But the film -- dubbed the "Bain bomb" -- contains numerous factual errors, including criticism of Romney for events that occurred after he had left the firm and was no longer involved in management decisions.