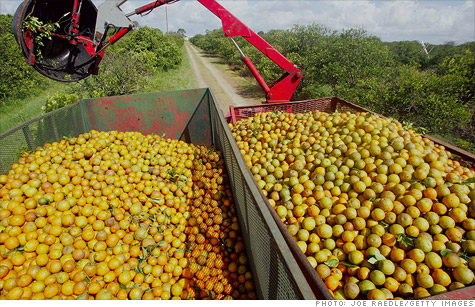 Large shipments of orange juice and other produce could easily be tracked and traced back to their source, pinpointing where outbreaks begin.
NEW YORK (CNNMoney) -- Several times each year, the nation faces a widespread, food borne illness crisis. But there's an easy, cheap technological solution that could stop scares and outbreaks in their tracks.
A relatively simple system of QR codes -- those funny-looking, two-dimensional barcodes you see everywhere today -- could instantaneously link a product sold on store shelves back to the farm where it was grown or raised with a snap of a smartphone camera. It would no longer take days or weeks to determine what food is safe and what isn't.
The system could even prevent the contaminated food from reaching store shelves in the first place.
IBM (IBM, Fortune 500) has developed a technology called the InfoSphere Traceability Server, which assigns unique barcodes to every step of the food distribution chain.
The farms, slaughterhouses, food palates, shipping containers, trucks, grocery stores and individual products that are using InfoSphere are all affixed with QR codes and tracked. Even specific animals are being tagged and scanned, so you could find out which specific cow your milk came from or which pig became your pork.
Using this system, the orange juice crisis could have potentially been avoided. Rather than halting all shipments of orange juice to test for a fungicide and testing OJ at grocery stores, as the U.S. Food and Drug Administration has done, the juice could have been scanned and instantly linked back to a particular farm.
"Someday soon, this will become the minimum requirement to participate in the food supply chain," said Paul Chang, IBM's traceability program director.
But the system has yet to be widely adopted. There are some high hurdles to mass-adoption, most notably that for the system to work, every actor in the supply chain has to participate. And participation requires some level of investment in order to feed data into the network and extract results.
IBM already has a small handful of large retailers in the United States and Europe on its system, including Germany's Metro Group, the third-largest food retailer in the world. But IBM believes it has found a way to get even the smallest mom & pop shops and farms on board as well.
IBM developed the InfoSphere system as a cloud-based service, meaning the only infrastructure needed to operate it is an Internet connection and a smartphone.
Though IBM's Chang wouldn't get specific about pricing, he said the costs are "minimal," pointing to the fact that that there are already small, rural farms in Thailand using the system.
"We've developed the technology in such a way that it's just a nominal cost to share and access information," Chang said. "We're at an inflection point where this could be deployed more broadly."
But even if the majority of vendors, farms, shipping companies and grocery stores adopt it, it would really take everyone to join in to link your OJ to a particular farm.
To make such a global food traceability network a possibility, the food industry has developed an open standard for data recording and tracking. That means customers using IBM rivals' systems could communicate with the InfoSphere server so a farm, a supplier and a grocery store all doing business with one another would not necessary need to be using the same system.
IBM says a very small percentage of companies in the food industry have adopted the technology so far. But with recalls happening on a weekly basis, and costs of technology falling, some regulators are becoming tempted to impose requirements that companies adopt traceability systems. IBM said is currently working with a small number of government regulators from around the world.
If widespread adoption does occur, it may help stop outbreaks before they start.
Today, testing products for contamination is a difficult and ineffective process. Food companies can't test every batch, so choosing which ones to test is essentially random.
For instance, Coca-Cola (KO, Fortune 500) tested its batch of orange juice and found that the fungicide was present. But it also noticed that competitors' juice was contaminated as well and had gone unnoticed.
Using advanced analytics, companies could know exactly which batches to test. As an example, a sensor in a shipping container of tomatoes that is several degrees warmer than normal could tip off the company to check the product that was shipped on that vessel. With QR tags, testers could know which palates were on that container and test them before they reach store shelves.
The technology is cheap and easy to implement. But until everyone adopts it, contaminated food outbreaks will continue.