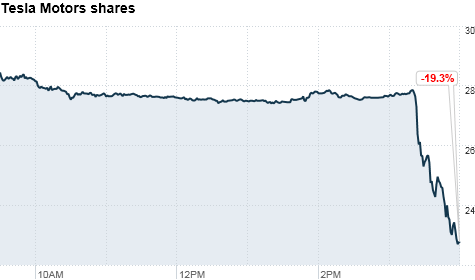 Click here for more info on Tesla shares.
NEW YORK (CNNMoney) -- Shares of electric car maker Tesla Motors fell nearly 20% Friday after the company announced the departure of a top executive.

Ricardo Reyes, Tesla's vice president of communications, said in a statement Friday that Peter Rawlinson, Tesla's vice president and chief engineer, "has decided to step away to tend to personal matters in the UK." Nick Sampson, who supervised vehicle and chassis engineering, also left the firm earlier this month, Reyes added.

Tesla's Model S, billed as "the first premium sedan to be built from the ground up as an electric vehicle," is scheduled to hit the market in the middle of this year. Sampson "had fully transitioned off the Model S at the time of his departure," Reyes said.

Tesla (TSLA) shares were flat for most of the day Friday before plunging in the afternoon following the news.

The company went public in June 2010, pricing shares at $17 each and raising $266 million. It closed Friday at $22.79 after opening at $28.40, though it began to make up some of those losses in after-hours trading.