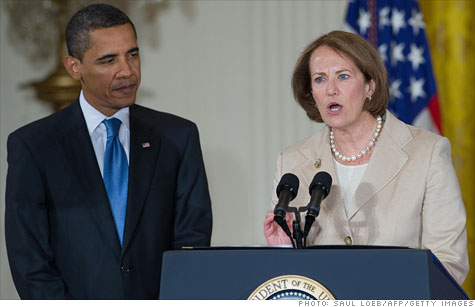 President Obama elevated the Small Business Administration, led by Karen Mills, to a cabinet-level agency.
NEW YORK (CNNMoney) -- President Barack Obama's proposal to consolidate several agencies, including the Small Business Administration, aims to streamline government, but some worry about tossing big and small companies together.
"Throwing a small business in the same pot with General Electric (GE, Fortune 500) or Microsoft (MSFT, Fortune 500) or eBay doesn't work very well," said Dan Danner, president of the National Federation of Independent Business.
"There's such dramatic differences between the needs and interests of the small business guys," said Danner. "If they're going through the same door as the big business guys, they will be lost in the shuffle."
The announcement came Friday, when Obama called on Congress to grant him the power to consolidate the SBA with the U.S. Trade and Development Agency, Overseas Private Investment Corporation, Export-Import Bank, Office of the U.S. Trade Representative and some U.S. Department of Commerce programs.
Obama assured small businesses would benefit from having a one-stop shop for entrepreneurs to launch an idea, seek patents, acquire financing and expand overseas. In an effort to reinforce his dedication to listening to small business concerns, Obama elevated the SBA to a cabinet-level agency, expanding administrator Karen Mills' responsibilities.
Mills echoed the president's sentiments during an afternoon call with industry advocates.
"You should take this as an indication that he will continue to be focused on small business," she said, adding that the SBA's role "does not go away. It becomes a critical piece of integrating lots and lots of small business activities."
The administration stated it consulted with small businesses before proposing the idea, and some who learned of it Friday seemed warm to it.
One was Kathrine Gregory, founder and director of Mi Kitchen es su Kitchen, an incubator that helps food manufacturing startups. Although she's concerned forcing companies of all sizes in through a single door will be chaotic, she said it could help in the long run.
"The concept is excellent," she said. "Most entrepreneurs get lost in the maze of where to go, what to do. If you consolidate you can maximize your employees -- you can do more with less. Possibly this agency will require less of our tax dollars. It's truly the way to go."
However, consolidating operations into one worries Lloyd Chapman, president of the American Small Business League. He said the existence of a larger department will eliminate transparency and ease the ability to cut staff that ensures small businesses receive the legally-mandated 23 percent of all federal contracts.
"Worst idea ever," he said. "They should be taking that agency and quadrupling the budget and hiring a few thousand people."
Obama cannot proceed with the plan without congressional authority, and details of what a new agency would look like remain unclear. But many industry leaders welcomed Mills' elevation to the cabinet, including House Small Business Committee Chairman Sam Graves (R-MO).
"This platform could provide an opportunity to advocate for small businesses in an environment where important decisions are made," he said in a statement.
But Graves said he plans to closely examine the proposal to ensure significant changes to federal commerce and trade programs are done carefully.
The International Franchise Association, while supporting Mills' elevation, also expressed concern over the changes.
"As part of any proposed reorganization, it would be essential that SBA loan programs remain intact and at their current funding levels, to ensure franchise small businesses can continue to access capital through these successful loan programs," CEO Steve Caldeira said in a statement.
Robert Litan, vice president of research and policy at the Kauffman Foundation, shrugged off any hopes and fears associated with Obama's proposal. He said little of consequence occurs at the cabinet level, calling Mills' elevation a political move. And he said the consolidation, which he doubts will be approved because it is an election year, isn't likely to result in smoother operations.
"What they're hoping is that all these different agencies will work together. Maybe that could happen. But the wheels of change grind slowly in Washington, and even if they magically get this approved, it would take years to realize these kinds of synergies," he said.
--CNNMoney senior writer Parija Kavilanz contributed to this report.