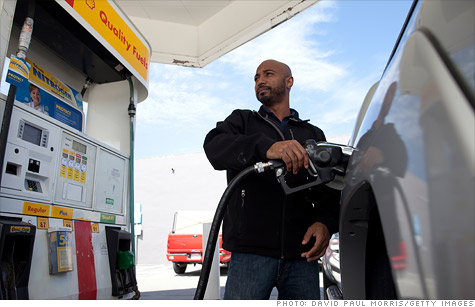 GasBuddy.com says Americans in some cities may be paying record prices for gasoline by Memorial Day.
NEW YORK (CNNMoney) -- The new year has greeted Americans with the highest January gas prices ever, and some analysts say prices could get close to $5 a gallon in some areas during the warm-weather driving season.

The average price for a gallon of regular unleaded gasoline in the United States on Monday was $3.39, according to motorist group AAA. That's nearly 30 cents higher than a year ago.
The national average reached a peak of $4.114 in July 2008.

Experts say there are a variety of factors placing upward pressure on prices at the pump. For one thing, the U.S. economy appears to be in a modest recovery, heralding a likely uptick in gasoline demand.
For another, the possibility of conflict with Iran over its threat to close the Strait of Hormuz has driven a rally in crude oil prices over the past few weeks, increasing input costs for refineries.
The Strait of Hormuz is a critical shipping lane, with 17 million barrels of oil per day passing through in 2011, according to the U.S. Energy Information Agency. That's about one-sixth of global oil production and nearly 20% of all the oil traded worldwide.

"The potential surrounding the Iranian situation is much worse than Libya," said Patrick DeHaan, senior petroleum analyst at gas price reporting website GasBuddy.com, recalling the oil spikes that accompanied Libya's civil war last year. "The stakes are much higher."
Looking ahead, continued geopolitical risk as well as speculative interest in oil and emerging market demand could push prices higher.
Although U.S. demand is still lukewarm, American refineries are increasingly exporting gasoline abroad, where strong demand is keeping prices high, said Kyle Cooper, director of research at IAF Advisors.

"The U.S. consumer is competing with the emerging market consumer, namely Brazil, China, and India," Cooper said. "You throw on top of that the fear of anything happening with Iran, and most likely prices are not going to come down significantly in the next few months."
But Cooper only sees a modest boost in gasoline prices coming, to an average of around $3.50 per gallon by the beginning of the summer.
GasBuddy.com expects bigger increases coming, predicting that the median U.S. gas price will stand at $3.95 a gallon in May.
Some cities could experience record prices by Memorial Day, GasBuddy says, with Chicago residents paying up to $4.95 a gallon and New Yorkers shelling out up to $4.55.

But other analysts say consumers may get some relief in the months to come.
Richard Soultanian, co-president of NUS Consulting, said that barring a confrontation with Iran or some other disruption in the Middle East, some of the current risk premium in the market "is going to be leaking out." That should bring gas prices back to the low $3 range, he said.
Peter Beutel, an oil analyst at Cameron Hanover, said prices would likely drop by the end of February, since Iran is unlikely "to go through with any of its threats." He expects prices to bounce back beyond that, but was hesitant to make a precise prediction, saying consumers are likely in for another roller-coaster year.
"I don't see any way to get rid of volatility," he said.