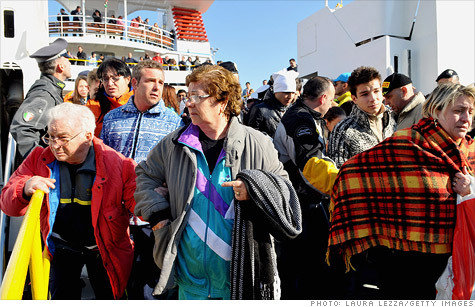 NEW YORK (CNNMoney) -- Shares of Carnival plummeted in U.S. trading Tuesday after the cruise line operator said it may suffer a more than $100 million hit to its profit from the grounding of the Costa Concordia.
The accident on Friday has left at least 11 people dead after five more bodies were found Tuesday. More than 20 people are still missing as the ship lists on its side near the island of Giglio off the coast of Italy.
Shares of Carnival (CCL), the Miami-based parent company of Costa Cruises, which owns the ship, were down 14.2% in morning trading Tuesday, the first U.S. trading day since the Friday night accident.
Carnival released details of the financial costs in a statement Monday, adding that it is "deeply saddened by this tragic event."
The company said it has insurance policies for both damage to the vessel and personal injury liability for third parties. But there is a $30 million deductible on the damage policy and $10 million deductible on the personal injury policy.
In addition, the loss of use of the ship will likely cost the company between $85 million and $95 million during its current fiscal year, which ends Nov. 30.
"The vessel is expected to be out of service for the remainder of our current fiscal year, if not longer," said the company. "In addition, the company anticipates other costs to the business that are not possible to determine at this time."
Shares of Carnival rival Royal Caribbean Cruises (RCL) were down 3.7% in morning trading on investor fears that the accident could hurt demand for all cruises.
Analysts from Susquehanna Financial downgraded both cruise operators on Tuesday, while JPMorgan downgraded only Carnival.
JPMorgan analyst Kevin Milota wrote that this accident comes at a particularly bad time for the cruise industry, since the peak sales period runs from January through March.
"While an event like this is extremely rare in the cruise industry, we do think this will have an impact on bookings in the immediate term, in particular for the cruises that have yet to be booked," Milota wrote.