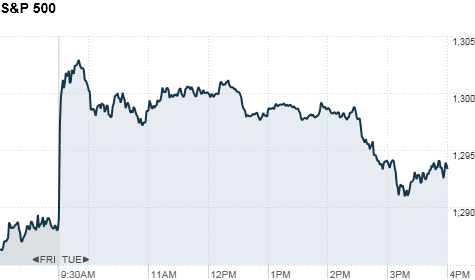 Click chart for more markets data.
NEW YORK (CNNMoney) -- U.S. stocks started the week higher Tuesday, as investors welcomed several signs of improving global economic growth.
The Dow Jones industrial average (INDU) closed up 60 points, or 0.5%, the S&P 500 (SPX) rose 5 points, or 0.4%, and the Nasdaq composite (COMP) increased 17 points, or 0.6%.
The day's gains followed a trifecta of positive economic data.
China's government said the country's economy grew at an annual rate of 8.9% in the last three months of 2011, which was better than many analysts expected.
"There have been a lot of fears about global growth," said Gerry Davies, currency analyst with ForexLive.com. "A lot of people are worried the Chinese economy is slowing down. The fact that the data came out better than expected was greeted with some relief."
Investors were also encouraged by a German sentiment index that topped expectations, and by a report showing growth in New York regional manufacturing, which was largely due to new orders and employment, said Michael Sheldon, chief market strategist at RDM Financial Group.
Oil prices spiked $2.19, or 2.2%, to $100.90 a barrel. Copper also rose more than 2% Tuesday. Copper prices are seen as a key predictor of the economy, since the base metal is used to manufacture goods ranging from cars to plumbing pipes.
Financials weighed on the overall market after Citigroup (C, Fortune 500) missed earnings and reported sharp drops in revenues and profits for the fourth quarter. Citigroup's shares closed down more than 8%. Goldman Sachs, Bank of America, Morgan Stanley and JPMorgan Chase all closed down between 1% and 3%.
While investors shrugged off Standard & Poor's downgrade of nine eurozone governments and Europe's bailout fund.
Fears about Europe's debt crisis still abound. A Fitch official told Reuters Tuesday, "Greece is insolvent so it will default." Greek officials and private investors are set to resume debt talks on Wednesday.
"Investors are giving the economic data and the outlook that 'things will work out' the benefit of the doubt," said Sheldon. "But we're clearly not out of the woods, and the biggest issue is still Europe."
World markets: European stocks closed with solid gains. Britain's FTSE 100 (UKX) added 0.7%, the DAX (DAX) in Germany gained 1.8% and France's CAC 40 (CAC40) climbed 1.4%.
Asian markets ended higher. The Shanghai Composite (SHCOMP) soared 4.2%, the Hang Seng (HSI) in Hong Kong gained 3.2% and Japan's Nikkei (N225) climbed 1.1%.
Companies: Shares of Carnival (CCL), the company that owns the Costa Cruises luxury ship that ran aground Friday, plummeted 14%. At least 11 people died in the wreck. Carnival said Monday it expects to lose at least $85 million.
Shares of Sears (SHLD, Fortune 500) soared 9.5% amid ongoing chatter that the troubled retailer may go private. Despite the day's spike, Sears' stock remains near its 52-week low, hit earlier this month.
Goldman Sachs (GS, Fortune 500) reports its results before the market opens Wednesday, while Bank of America (BAC, Fortune 500) and Morgan Stanley (MS, Fortune 500) are scheduled to release their reports ahead of the opening bell Thursday.
Currencies and commodities: The dollar fell against the euro and British pound, but gained versus the Japanese yen.
Gold futures for February delivery rose $24.80 to $1,655.60 an ounce.
Bonds: The price on the benchmark 10-year U.S. Treasury fell, pushing the yield up to 1.86% from 1.85% late Monday.