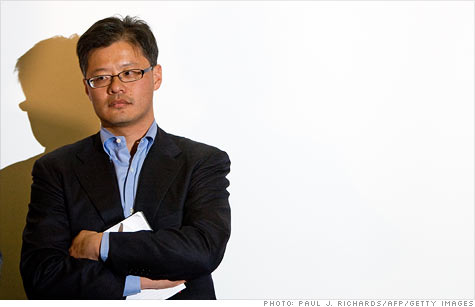 Yahoo co-founder Jerry Yang
NEW YORK (CNNMoney) -- Yahoo co-founder Jerry Yang has resigned from the board of directors and all other positions at the company.
Yang's resignation, which is effective Tuesday, also applies to his board positions at Yahoo Japan and the Chinese conglomerate Alibaba, of which Yahoo (YHOO, Fortune 500) owns a stake.
Yang co-founded Yahoo in 1995 with David Filo. He served as CEO from June 2007 to January 2009, when he stepped down amid shareholder anger after Yahoo snubbed a $47 billion buyout bid from Microsoft (MSFT, Fortune 500).
Things have only gotten worse for Yahoo since then. Carol Bartz stepped into the CEO spot after Yang, and had a tumultuous reign. Yahoo gave up on search in 2009, a market that it once led. It's also losing ground with its other cash cow, display advertising, to new entrants to the market such as Google (GOOG, Fortune 500) and Facebook.
Bartz was fired by phone in September. Earlier this month -- after four leaderless months -- Yahoo named Scott Thompson as its new CEO. Thompson was previously the president of PayPal, an eBay (EBAY, Fortune 500) subsidiary.
Though Yang had been on Yahoo's board for the company's entire existence, his fellow co-founder extricated himself long ago. Filo stepped down from Yahoo's board in 1996, though he remains a company executive. His official title: Chief Yahoo.
Yang's exit will be cheered by shareholders who want to put the company up for sale, a move Yang reportedly opposed. Yahoo's troubles have made it a prime target for buyout offers from private equity firms and tech behemoths alike.
But Fortune reported this month that Yang and other board members have said privately that the board would not support a takeover offer. It's unclear whether Yang's resignation will clear a path to a Yahoo sale -- but investors seem to think it's a positive move. They sent Yahoo shares up 5% in after-hours trading on Tuesday.