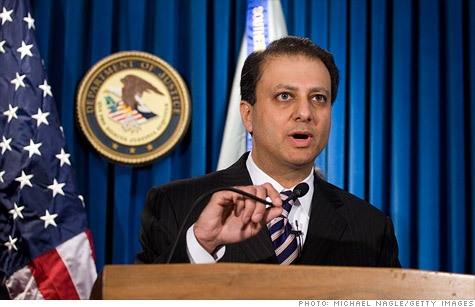 Preet Bharara, the U.S. Attorney for the Southern District of New York.
NEW YORK (CNNMoney) -- Law enforcement officials announced charges Wednesday against seven hedge fund and investment professionals in an insider trading case they called "a stunning portrait of organized corruption on a grand scale."
The men are alleged to have participated in a scheme that generated more than $60 million in illegal profits based on trades of computer maker Dell (DELL, Fortune 500)'s stock, according to a complaint unsealed Wednesday.
Law enforcement officials compared the case in scale to that of Raj Rajaratnam, the former manager of the defunct hedge fund Galleon Group who was sentenced to 11 years in prison after netting $64 million in a long-running insider trading scam.
"The charges, at their core, describe a circle of corruption and a cycle of greed," Preet Bharara, the U.S. Attorney for the Southern District of New York, said at a news conference.
He called the defendants "a circle of friends who essentially formed a criminal club whose purpose was profit and whose members regularly bartered lucrative inside information."
The case is believed to involve the largest illegal profit ever from trades of a single stock, and includes "some of the largest and most sophisticated hedge funds in the country," Securities and Exchange Commission enforcement director Robert Khuzami said at the news conference.
Among those named in the complaint, Anthony Chiasson, who co-founded the Level Global hedge fund in 2003, surrendered to law enforcement in New York on Wednesday morning, a person familiar with the investigation said.
Danny Kuo of the investment manager Whittier Trust Co. was arrested in California, the person said. Todd Newman, a former portfolio manager at Diamondback Capital, was arrested in Boston, while Jon Horvath, who worked at Sigma Capital Management, was arrested in New York.

Three other individuals named in the case have pleaded guilty and are cooperating with investigators. Those men are Spyridon Adondakis, who worked at Level Global, Jesse Tortora, who worked at Diamondback, and Sandeep Goyal, who worked at Neuberger Berman.
In the complaint, the FBI alleges that in 2008 and 2009, the defendants made more than $61.8 million in illegal profits on Dell stock based on inside information. Level Global alone is alleged to have made more than $50 million based on an illegal tip ahead of Dell's August 2008 earnings announcement.
The Securities and Exchange Commission announced related civil charges against the seven men Wednesday based on insider trades of Dell stock as well as of technology firm Nvidia Corp. (NVDA) Together, trades on these stocks netted $78 million in illegal gains, the SEC said.
The SEC also brought charges against Diamondback and Level Global.

Goyal, a former Dell employee, repeatedly obtained inside information from a contact at the firm and passed it to his friend Tortora at Diamondback, according to the complaint. Tortora and Newman allegedly paid Goyal at least $175,000 for this information, which was then disseminated to the others named in the complaint.

Kuo, in addition to benefiting from the Dell tips, is accused of passing inside information on Nvidia to the other defendants.
SAC Capital Advisors, the parent of Sigma Capital Management, did not immediately respond to a request for comment, nor did Whittier Trust. A spokeswoman for Diamondback declined to comment.
Level Global reportedly announced plans to shut down last year, according to news reports at the time, and a lawyer for the firm did not immediately respond to a request for comment.
Horvath's lawyer, Steven Peikin, said his client had done nothing wrong and called the charges "meritless." Lawyers for other defendants did not respond to requests for comment.
Law enforcement officials are in the midst of a more-than-two-year crackdown on insider trading known as "Operation Perfect Hedge" that has led to charges against more than 60 people.