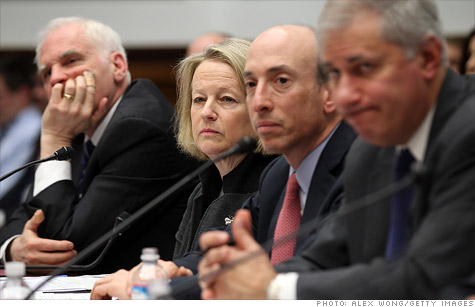 Several regulatory chiefs testified before a House panel Wednesday about enforcement of the Volcker rule.
WASHINGTON (CNNMoney) -- A House panel took aim at the so-called Volcker rule on Wednesday, saying the key Wall Street reform needs to be delayed and possibly scrapped.
Republicans on a House Financial Services subcommittee criticized the rule, which aims to stop banks from making risky bets with their own money called proprietary trading.
The idea behind banning proprietary trading, proposed by former Federal Reserve chairman Paul Volcker, was to prevent taxpayers from being on the hook for future bailouts of banks that made risky bets solely to chase profits.
Republicans on the panel want the rule delayed, with some saying it should be stopped, because it would stymie bank liquidity in the United States.
Alabama Republican Rep. Spencer Bachus called the Volcker rule a "self-inflicted wound on this country and its financial markets."
"What we are hearing from companies and consumers is that this rule will threaten the United States and its financial markets -- which are the deepest and most liquid in the world," Bachus said. "And proprietary trading contributes to that liquidity."
Regulators testifying before the panel said that preserving liquidity is on their minds, as well. They especially want banks to continue to have the power to make big, sometimes risky, short-term bets for customers looking to "make markets" or hedge risk.
When regulators released detailed plans of proposed Volcker rules, they asked more than a thousand questions, many of them aimed at figuring out the difference between market making and proprietary trading.
"There's no question, there's a lot of questions. But part of what the questions do is reveal to the public what we've been thinking," said Federal Reserve Governor Daniel Tarullo, defending against criticism of too many questions in a draft release of the Volcker rule.
Regulators all pledged they were committed to preserving market making and avoiding choking the flow of cash and securities through the financial markets.
"Market making is a critical function, so we've asked a lot of questions about whether we've gotten this exemption for market making right in this proposal," said U.S. Securities and Exchange Commission Chair Mary Schapiro.
Knowing the rule was coming, some banks have already started changing how they do business.
Goldman Sachs (GS, Fortune 500), JPMorgan Chase (JPM, Fortune 500) and Bank of America (BAC, Fortune 500) say they have closed their proprietary trading desks. Morgan Stanley (MS, Fortune 500) has said it will be out of proprietary trading by the end of 2012.

Tarullo said non-regulated financial firms, including some hedge funds, have said they plan to step up and take advantage of the proprietary trading gap, which would help maintain liquidity in the financial markets.